It's *
♥
*
Etsy Finds Friday*
♥

*
Today I am featuring the
Fantastic Wood Art

Created by:
Darlene Janora's artwork is a form of Intarsia which translates to wood mosaic. She starts with a single piece of wood. The picture is drawn directly onto the board. Then each piece is cut, sanded, shaped and painted/stained and glued back together. Shims are applied to certain areas to give it a 3-D look.
This wonderful Wood Artwork that Darlene has created caught my eye and captured my imagination the minute I saw it! Her pieces are bright and happy, very special. Enjoy!
In the Artist's Own Words:
I started the art of scrolling about 13 years ago. I am self taught through books and videos. I have seen many pictures of Intarsia and decided I liked it best however, I prefer bright coloring as opposed to the natural wood tones. So I combined acrylic painting using the wood as my canvas. Some people make a strong point to mention that their work is all the wood, no painting or stains. I personally think the bright colors are more appealing on some pieces. It also takes an extra step and some paintbrush skills are needed.
Another hobby of mine is learning fun facts, that I share with you in some of my listings. I hope you find them interesting and entertaining.
True love. The lovebird has one mate for life, and they like to snuggle.
I love the fact that she has no face. She passes no judgement.
The tree frog sleeps during the day. It is thought that their eyes are red, so when awoken by predators when their eyes open that it startles them and gives the frog a change to get away.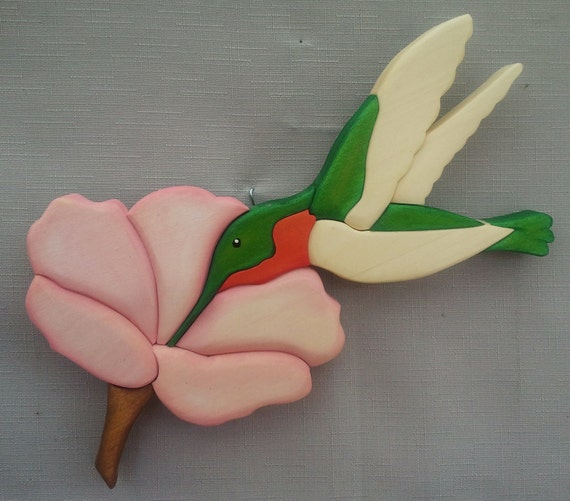 Hummingbird Wall Hanging
There are seventeen species of hummingbirds in North America. Hummingbirds flap their wings 50 to 200 times per second. Generally the faster time is in courtship. They can fly up, down, right, left, backwards, upside down and even loop-de-loops! Amazing!
.¸.•´¸.•*´¨) ¸.•*¨)
(¸.•´ (¸.•` ♥
Click
HERE
to visit

Darlene's

Etsy Shop
and see more of her wonderful wood mosaic artwork!
(¸.•´ (¸.•` ♥
Thank you for stopping by for my Etsy Finds Friday post!!
Please stay tuned for next Friday's Find... It could be YOU! :) Happy Friday!!
~Trina