Welcome to my 49th post featuring the amazing polymer clay artwork created by a few of the members of our PCETeam on Etsy!! The diversity in creativity and style is wonderful!! Enjoy, and be sure to check out their Etsy Shops to see more of their wonderful items.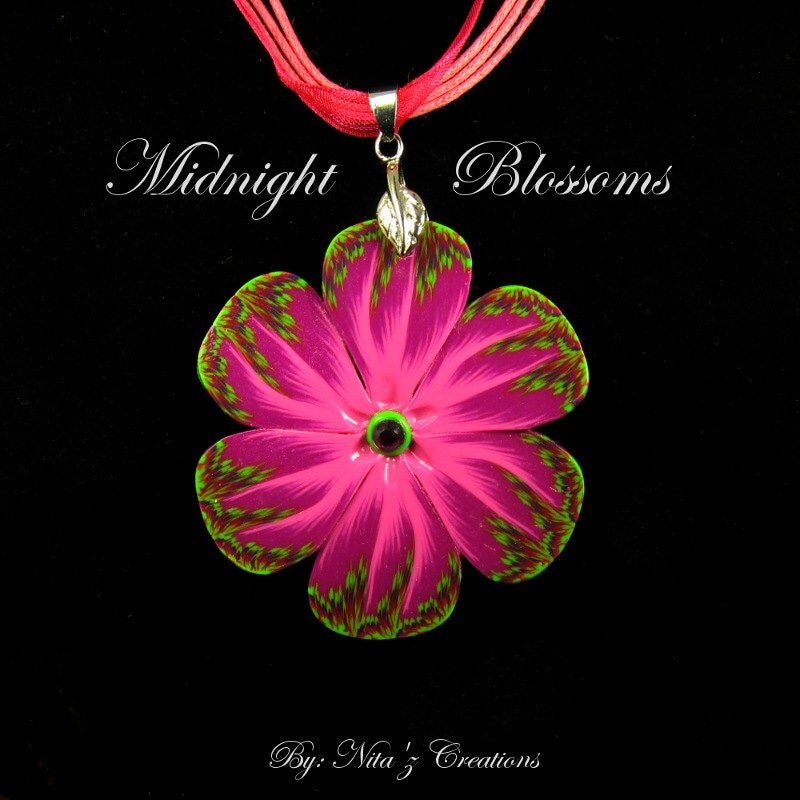 Magenta & Green Tropical Flower Necklace
This blossom pendant is entirely made from polymer clay (Fimo). I did all the color mixing and assembled each petal on a base of polymer clay. I drilled the hole for the bail by hand and attached a silver plated bail. This necklace has a organza ribbon and multi cord necklace that is adjustable between 16-18 inches. The blossom measures appx 5cm diameter x 0.5cm width.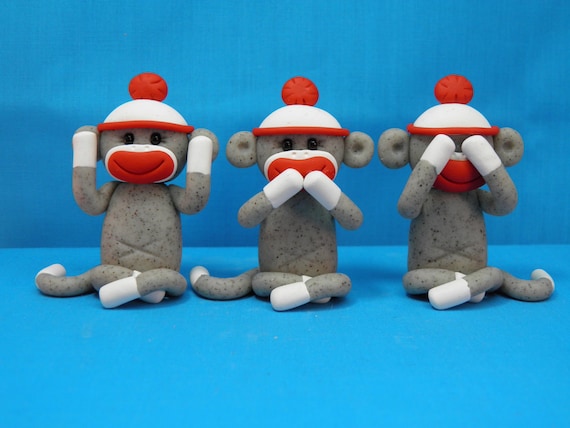 Three Wise Sock Monkeys
See No Evil, Speak No Evil, Hear No Evil
By: PeeWee's ClayHouse
The idea originated from japan & the monkeys are : hear no evil (kikazaru) speak no evil (iwazaru) & see no evil (mizaru). Japanese names translate to don't hear, don't speak & don't see. Zaru is the verb for "don't" in Japanese & monkey is saru. They are both pronounced the same so some clever chap put two & two together & that is how we get the monkeys representing it. Now with these cuties you can have a whimsical way to remember it. Each sock monkey is about 2" tall & 1.5" wide & made-to-order from Premo Scupley polymer clay using no molds.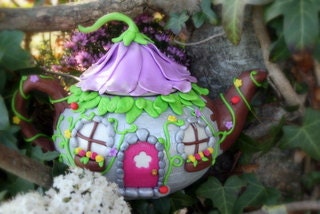 Fairy House Tea Pot
By: Happy Cake Toppers
Since we all know fairies are very adaptable and love to recycle unwanted items, what better home for a fairy than in a discarded Tea Pot? This is a full size ceramic teapot, lovingly covered in polymer clay to create the perfect home for your favourite fairy friend. Complete with window box's brimming with flowers a magical fairy door and fully removable lilac floral lid.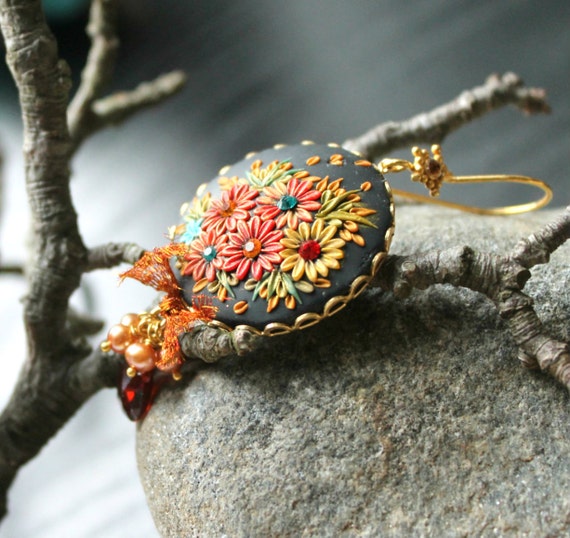 la belle ferroniere
Golden Freshwater Pearls, Magma Colored CZ Briolette,
Clay Details in Black, Red and Gold
By: Peelirohini
This one is a smouldering, sophisticated beauty !! Red, Black and Delicious Gold !! Fiery and Strong and Stunningly Beautiful ! I have set rich black clay in a brass vintage bezel and set floral details in shades of red, yellow and accents of blue... The clay in the floral accents are filled with gold leaf to add shimmer ! The flowers are set around sparkly vintage and current age rhinestone from swarowski ! Very attractive ! From the bottom of the bezel finding is a cluster of golden freshwater pearls and they end in a fiery red CZ briolette !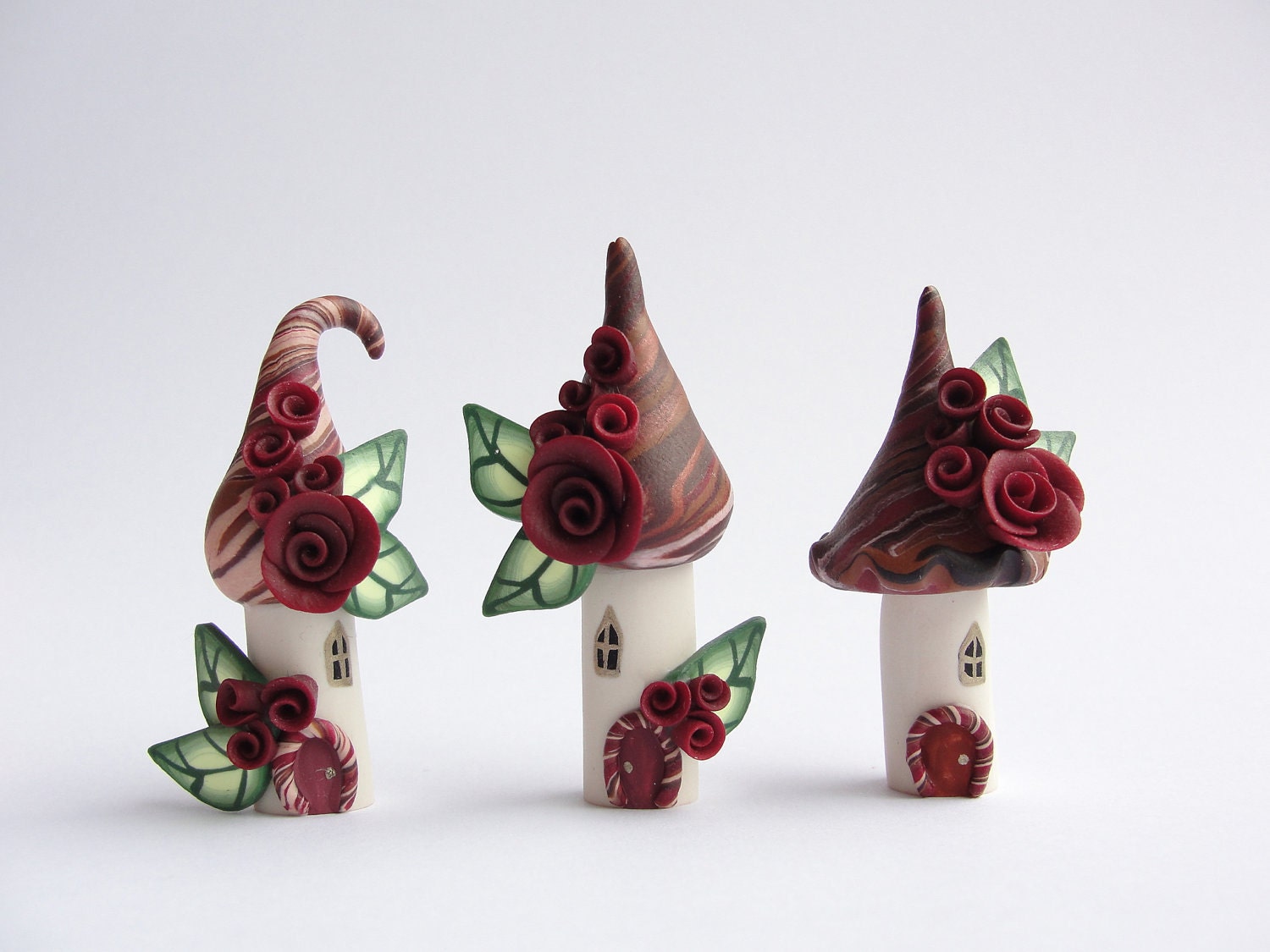 Miniature Tropical Fairy Village
A tiny little fairy village of 3 mini fairy flower houses handmade from polymer clay and decorated with acrylic paint in lovely deep red and brown colours. The smallest house is 1 & 5/8ths inches (4.1cm) tall and the tallest is 1 & 7/8ths inches (4.7cm) tall. The village is very pretty and will look beautiful on a shelf, as part of a terrarium, amongst potted plants, as part of a dollshouse fairy scene, as a cake topper...etc. Wherever you decide to display them they will give a unique and beautiful display.
(¸.•´ (¸.•` ♥
Thank you for visiting, please stop by again for post number fifty in my series, featuring more of our PCETeam members!! Wishing you a Happy Day!!
~Trina