Welcome to my 42nd post featuring the amazing polymer clay artwork created by a few of the members of our PCETeam on Etsy!! The diversity in creativity and style is wonderful!! Enjoy, and be sure to check out their Etsy Shops to see more of their wonderful items.
First, I would like to introduce our newest PCETeam Leader, Leah, from Magic by Leah and Trinkets by Leah. Leah has been a member of the PCETeam for quite some time now and it has been wonderful to have her recently join us as a team leader. We are certainly very lucky to have her as one of our leaders, and thank her for her encouragement, enthusiasm and great ideas!!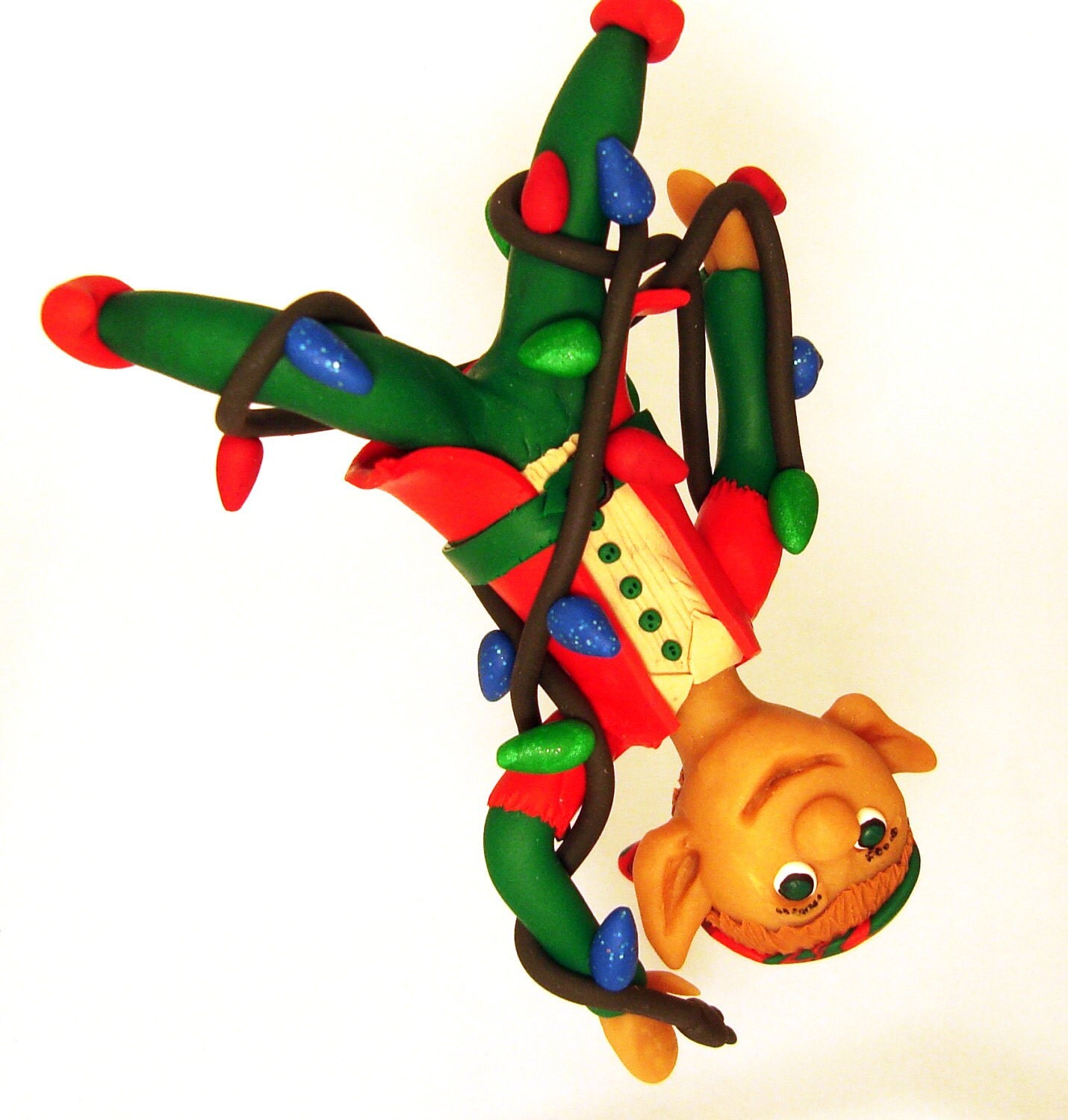 Christmas Elf Ornament
Clumsy Elf Tangled in Christmas Lights Holiday Ornament. This elf is the first in my elf ornament collection. A clumsy little guy, he tripped while hanging the Christmas decorations. This poor little guy is hanging from his ankle all tangled up in Christmas lights. He has not lost his holiday spirit however and will smile from season to season. This little elf is about 4 inches tall. He is wearing green pants, a white shirt, red jacket, green belt, and red/green Christmas hat. He hangs from his leg with a strong wire which you can use to wrap around your tree for secure hanging.
♥•.¸¸.•´♥`•.¸¸.•´♥`•.¸¸.•´♥`•.¸¸.
•´♥ ♥•.¸¸.•´♥`•.¸¸.•´♥`•.¸¸.•´♥`•.¸¸.
•´♥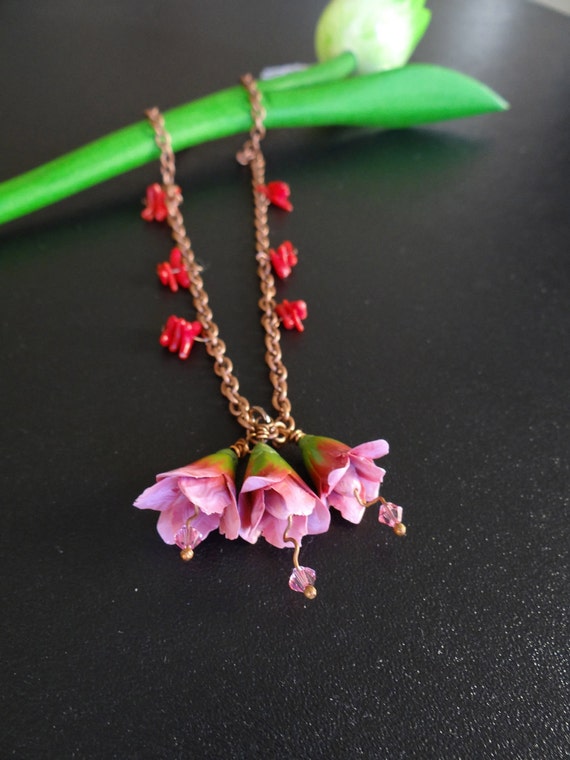 The Tulip Beads were hand sculpted by me using Polymer Clay. I used Premo Polymer Clay. Every Bead had been sanded and buffed by hand for smooth and shiny looking.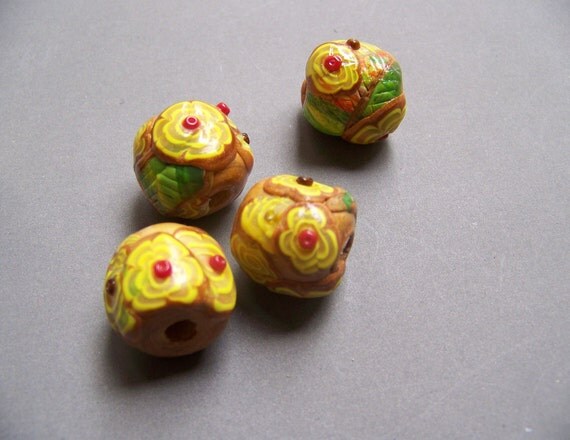 Necklace Beads ~ Autumn Flowers
By: Natalie
These are one of a kind beads (12 total) made from wood and accented with polymer clay flowers and leaves. Each bead is approximately the size of a penny. They are light, but not flimsy. Very durable and strong, and unlike any other beads you might have seen! Warm colors and unusual design will complement any casual or semi-formal outfit! These would be great for making your own unique necklace, bracelet and/or earrings for the Fall season.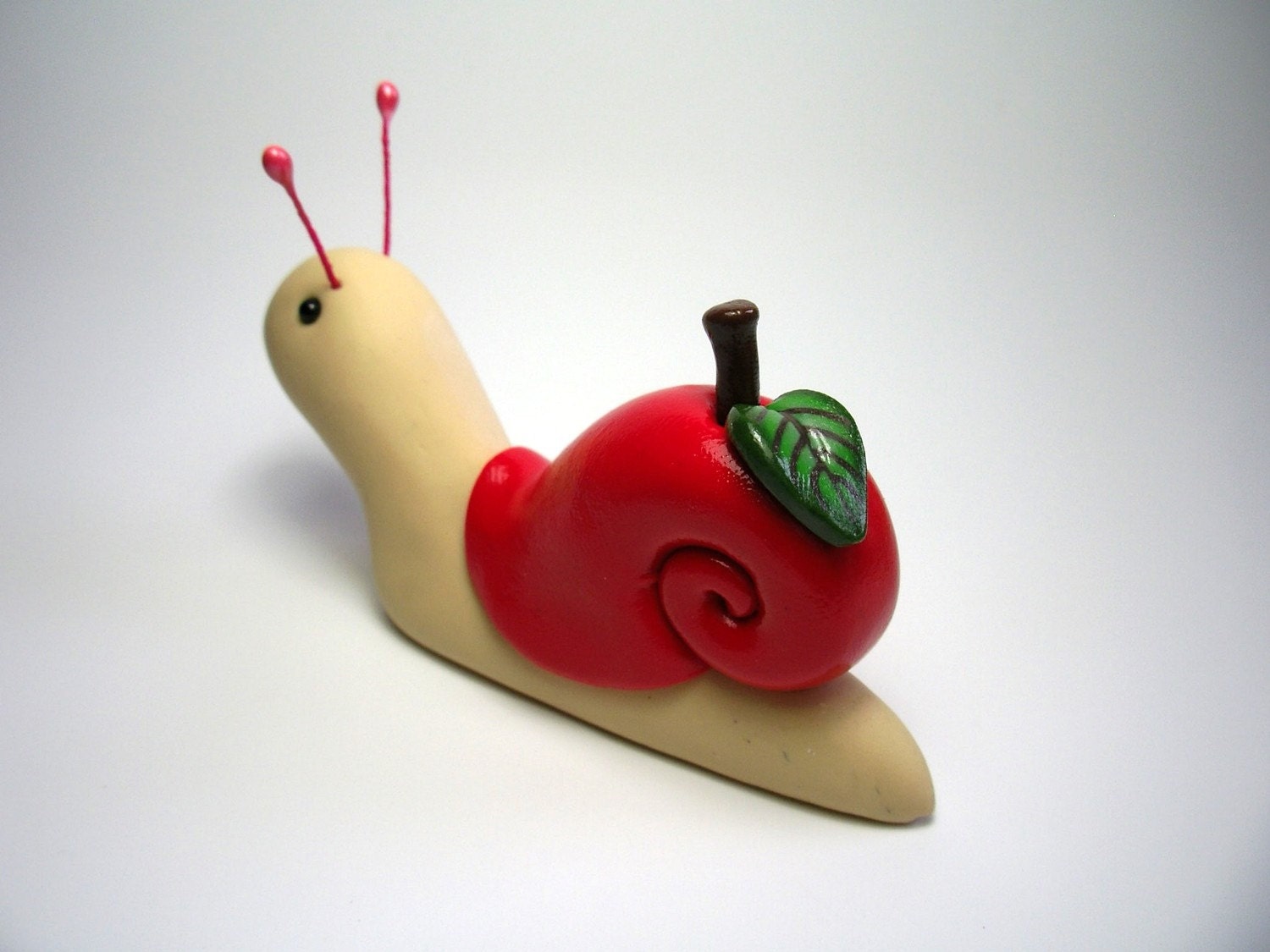 By: Quernus Crafts
Lydia's a health fanatic. She's particularly fond of long distance running and holds the record for the Mollusc Marathon of 5 years 33 days, taking a whopping 2 weeks off the previous record holder. Lydia is made entirely from polymer clay, apart from her black onyx eyes and red feelers. Her stalk has been strengthened with a wire armature, and her leaf has been made using a millefiori technique. She is 6.5cm long and 3.5cm tall, and her shell has been finished with two coats of hard wearing gloss varnish.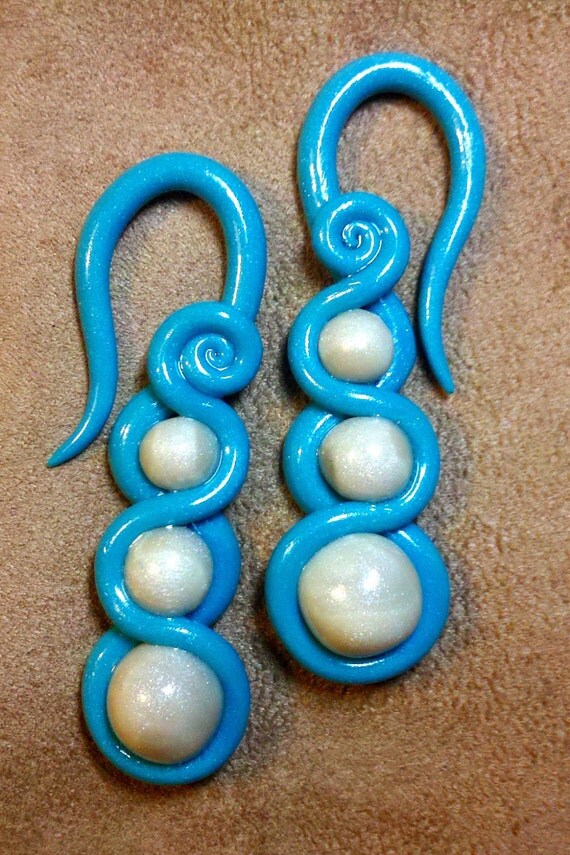 Pearl Tier Gauged Earrings
By: Peach Treats
These gauged earrings are made from polymer clay. These Earrings can be made in fakers gauge, or in sizes 4g-00g at listed price. If you would like a larger size, just convo me. I can make this style in as large as 5/8". The pair shown is 6g, approx. 3" long.
(¸.•´ (¸.•` ♥
Thank you for visiting, please stop by again for post number forty-three in my series, featuring more of our PCETeam members!! Wishing you a Happy Day!!
~Trina