It's *
♥
*
Etsy Finds Friday*
♥

*
Today I am featuring the
Beautiful Stained Glass
by:
Carol Smith
of Sunfire Glass
In the Artist's own words:
My studio is located in the beautiful Niagara Wine Country, Southern Ontario, Canada. I have been creating stained glass pieces for many many years and just recently expanded into glass fusing which is fun but my real passion is still stained glass.

There's nothing like a beautiful stained glass entryway, splashy window in a bathroom, a window to block or enhance a view, cupboard or bookcase doors, a framed piece, tabletops. The possibilities are endless.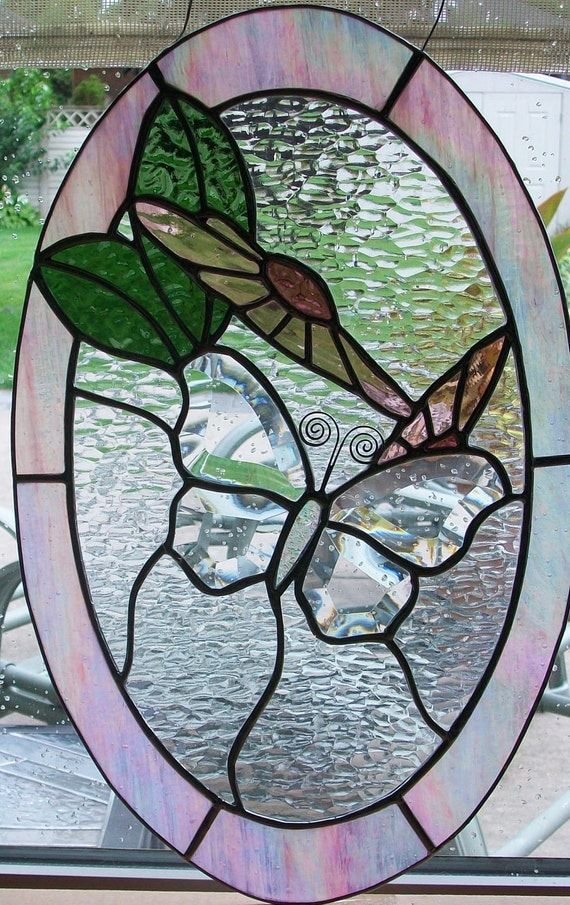 Butterfly Bevelled Stained Glass Suncatcher
Rainy day (photo) or sunny day - this oval panel sparkles all the time and looks fantastic in any window. Butterfly is clear bevelled glass surrounded by a bit of colour in the daisy and green English Muffle glass for leaves and the border is an irridized pink and clear combination. Measures 16 1/4" x 10 1/4" wide.
This cute little bunny would love to hang in your child or grandchild's window.
He's very cheerful & colourful for any room.
Measures 11 1/2" wide by 18 1/4" long with a sturdy zinc channel border.
Includes jack chain to hang.
.¸.•´¸.•*´¨) ¸.•*¨)
(¸.•´ (¸.•` ♥
Click
HERE
to visit Carol Smith's Etsy Shop and see more of her beautiful Stained Glass!
.¸.•´¸.•*´¨) ¸.•*¨)
(¸.•´ (¸.•` ♥
Thank you for stopping by for my Etsy Finds Friday post!!
Please stay tuned for next Friday's Find... It could be YOU! :) Happy Friday!!
~Trina