It's *
♥
*
Etsy Finds Friday*
♥

*
Today I am featuring the
Beautiful and Delicate
Jewelry Created
by:
Jennifer Casady
In the Artist's Own Words:
Jewelry By Jennifer Casady, an intimate boutique of elegant and timeless handmade jewelry incorporating a wide variety of gemstone briolettes and rondelles, solid 14 karat gold, sterling silver, fine silver (PMC) 14k gold fill and unique artisan crafted lampwork. I design one-of-a-kind and limited edition pieces using various techniques including metalsmithing, wire-wrapping, hand stamping, PMC (precious metal clay), and the ancient and beautiful art of chainmail. My handcrafted jewelry has a classic and understated elegance which enhances a woman's individual beauty. The vast majority of my pieces are deliberately designed to be dainty and petite.

I am the wife of an amazing husband, a stay-at-home Mom to three precious little girls, and jewelry designer. I am a third generation jewelry designer and have been crafty my entire life, thanks to the awesome crafty genes in our family. *grin* From going to gem shows with my parents and grandparents when I was little, to sitting and playing with my Mom's vast collection of jewelry as I was growing up, jewelry has always been a part of my life. I started designing jewelry in December of 2005 and have fallen in love all over again as I learn various methods of creating beautiful jewelry and constantly strive to perfect my art.
*Please note that pictures are deliberately taken to show detail in Jennifer Casady's pieces. Therefore, please be aware that the piece will look larger in the pictures than it actually is in real life. Please click on each piece's title to read more about it and to see the measurements.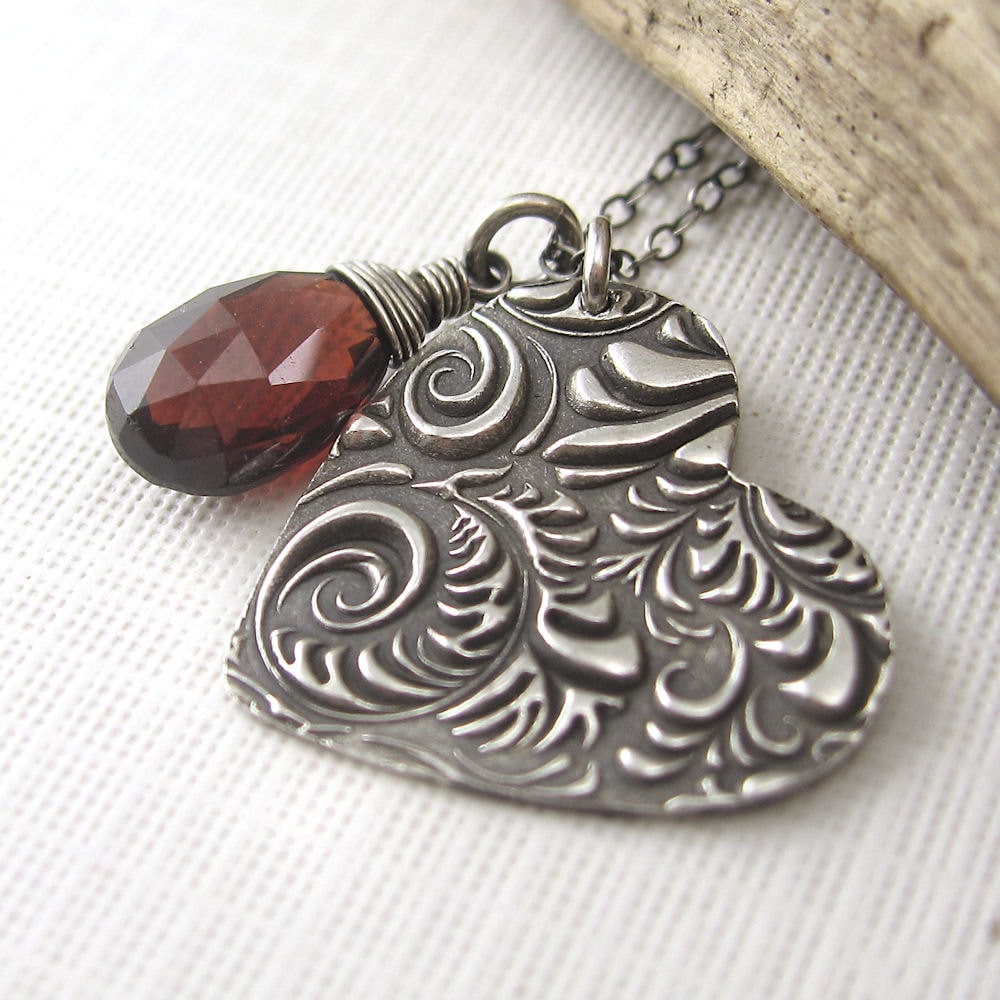 A gorgeous duo of handmade charms consisting of an 8.5mm x 14mm deep blood red Garnet faceted pear briolette, lovingly wire wrapped with Sterling Silver wire and suspended gently from a dainty Sterling Silver 1.5mm flat cable chain. Next to the gemstone is an elegant handmade Fine Silver PMC heart pendant (approximately 1 inch in length) hand textured with my Plume pattern.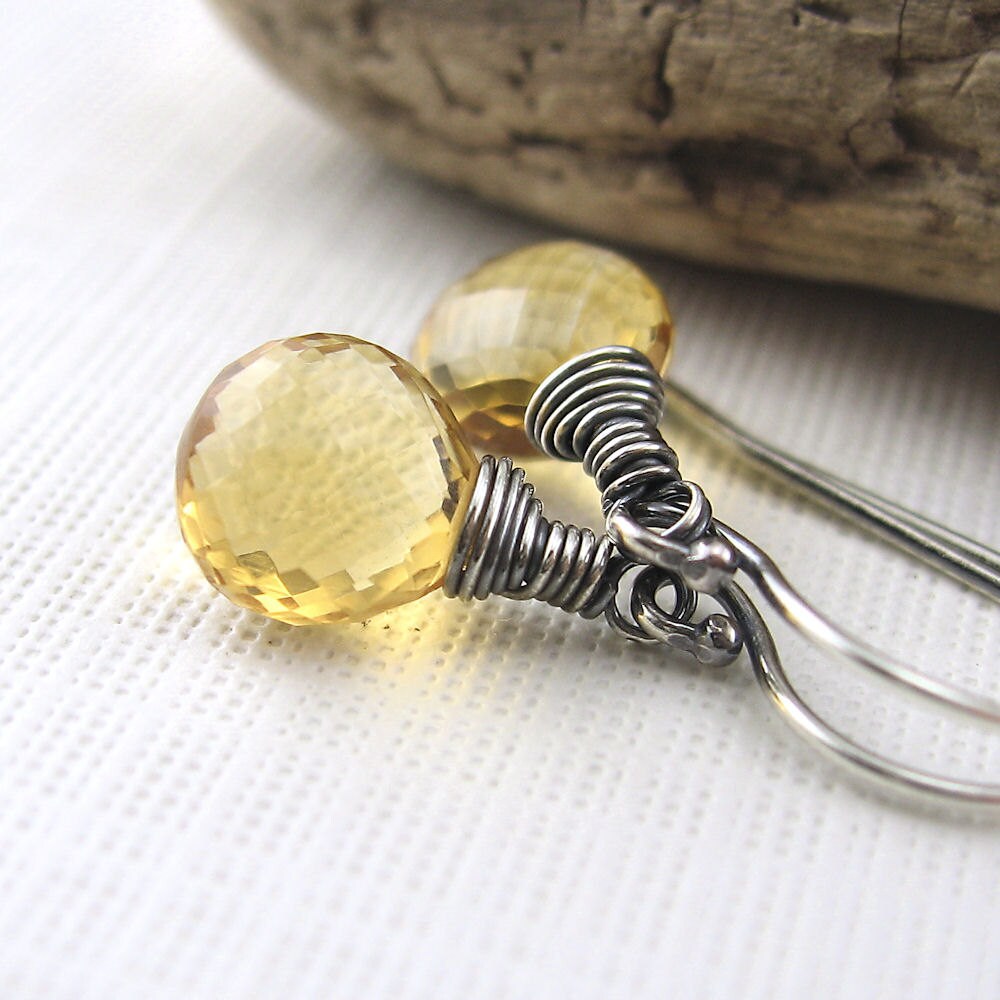 Dainty, individual high quality wire wrapped briolette earrings are the perfect companion to my highly popular Petite Drops and Minimalist Necklace Collections. These earrings are all tiny, petite drops perfect for those understated days.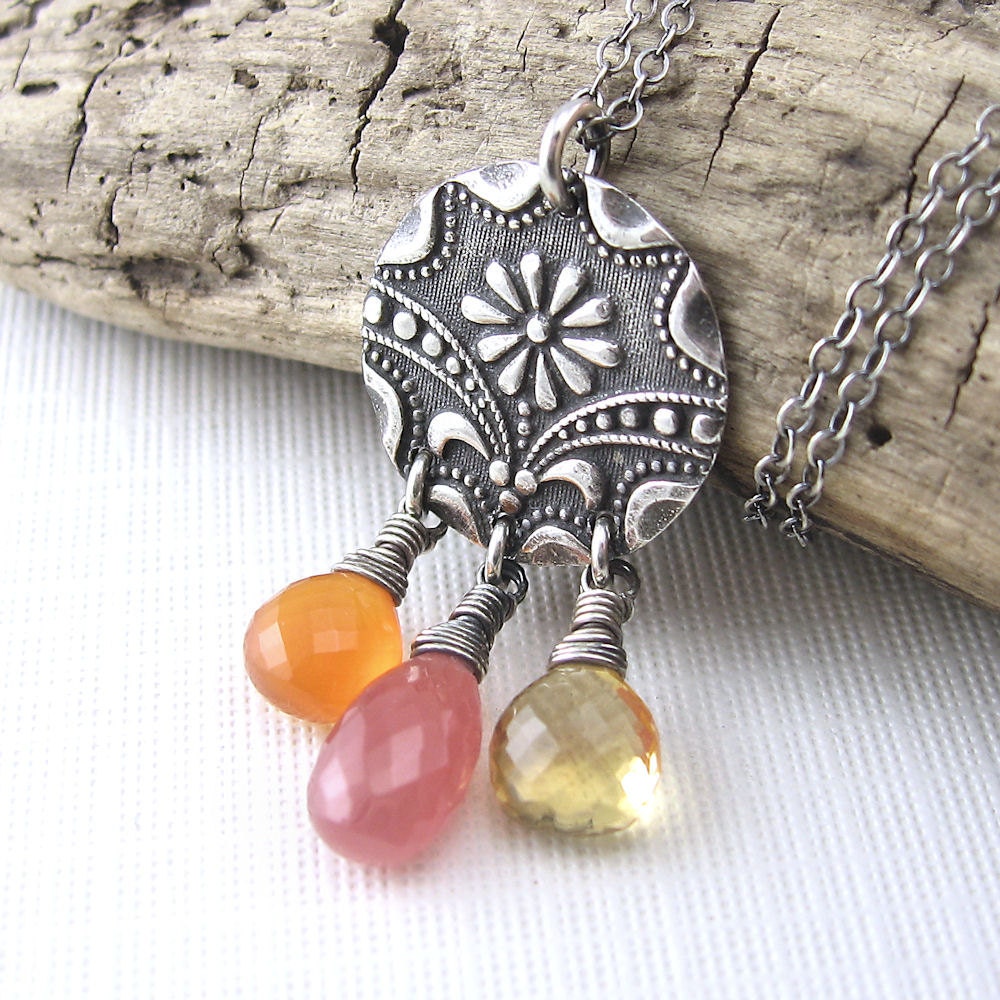 A gorgeous trio of briolettes consisting of an 8.5mm vivid orange Carnelian faceted heart, a 7mm x 12mm deep, pink Rhodochrosite faceted pear, and an 8.5mm sunshine yellow Citrine faceted heart briolette, are wire wrapped with Sterling Silver wire and connected into one of my handmade Fine Silver Antique Button pendants. The pendant is textured with an art deco daisy pattern and is 3/4 inch in diameter. The pendant is suspended gently from a dainty 18 inch Sterling Silver 1.5mm flat cable chain and is just under 1.75 inches in total length from the chain to the bottom of the gemstones. The entire handmade piece has been oxidized, buffed and tumble polished to bring out the texture and the contrast between deep, dark silver and shiny silver.
.¸.•´¸.•*´¨) ¸.•*¨)
(¸.•´ (¸.•` ♥
Click
HERE
to visit Jennifer Casady's Etsy Shop and see more of her beautiful Jewelry!
.¸.•´¸.•*´¨) ¸.•*¨)
(¸.•´ (¸.•` ♥
Thank you for stopping by for my Etsy Finds Friday post!!
Please stay tuned for next Friday's Find... It could be YOU! :) Happy Friday!!
~Trina