It's *
♥
*
Etsy Finds Friday*
♥

*
Today I am featuring the
Wonderful Gourd Art
Created by:
The Lily White Gourd Patch
It the Artist's own Words:
I simply love gourds...transforming them from field dirty into a showcased piece of art requires alot of work and patience, but is well worth the time and energy. My love for nature and the use of natural materials are reflected in their transformation.
My gourds are also available from the Native American Resource Center In the Old Main Building at the University of North Carolina at Pembroke and Guilford Native American Art Gallery in Greensboro, NC.
Basket Gourd
Native American Gourd Art
This gourd basket was colored using a blend of turquoise and teal ink dyes and finished with a coat of protective spray. The inside is painted brown and a coat of protective spray has been applied. The basket is trimmed with faux fir and woven with brown leather lacing. Attached conchos and beads adorn both ends.
Gourds are asymmetrical and are naturally embellished with insect holes, bumps and humps, rough spots, dark spots and other irregularities. These characteristics define gourd and no two are alike.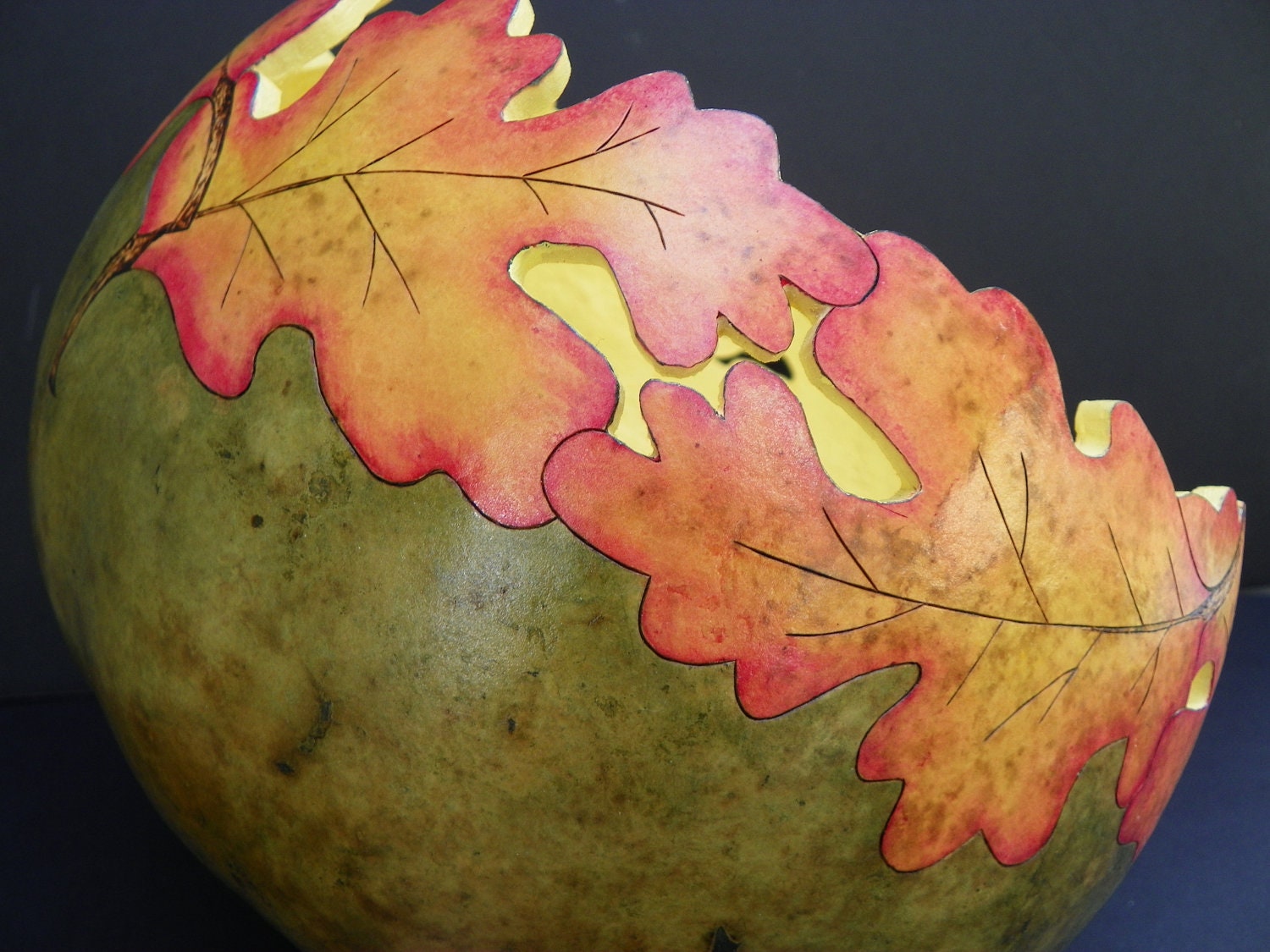 Fall leaves were woodburned onto this gourd and colored using a blend of ink dyes. The bottom is colored sage. The inside was sprayed yellow and both interior and exterior were finished with protecting spray.
Native American Dream Catcher Gourd
Native American dream catcher gourd with weaving - This gourd was colored with ink dye and finished with a coat of protecting spray. The inside is painted black enhancing the colors of the dreamcatcher. The gourd is woven with various reed, twine and yarn. A philodendron sheath is laced around the rim and a wooden medallion with assorted feathers embellish the gourd front. Three colors of waxed linen thread create a colorful dreamcatcher that compliment the tones in the weave. The bottom is signed by the artist.
.¸.•´¸.•*´¨) ¸.•*¨)
(¸.•´ (¸.•` ♥
Click
HERE
to visit Nettie

's

Etsy Shop
and see more of her Wonderful Gourd Art!
(¸.•´ (¸.•` ♥
Thank you for stopping by for my Etsy Finds Friday post!!
Please stay tuned for next Friday's Find... It could be YOU! :) Happy Friday!!
~Trina