It's *
♥
*
Etsy Finds Friday*
♥

*
Today I am featuring the
Beautiful Roses created by:
Norma's roses are absolutely gorgeous! I enjoyed reading about how her 'obsession' with 'dough' began... (It's a story similar to mine, I also began sculpting with salt dough!) :)
I am happy to feature Norma's beautiful work here today!
In the Artist's own Words:
I've been a professional crafter for 27 years. My obsession with "dough" started in 1984 and I spent two years dabbling with salt dough, creating salt dough characters as Christmas ornaments. I stumbled upon a recipe for bread dough two years later.

After creating my first bread dough rose, I was hooked on that craft for over 22 years. Last year I started working in cold porcelain, a modeling compound similar to bread dough but without the bread. That led into my interest in creating jewelry with cold porcelain.

My biggest thrill in all these years came early in my career as a bread dough artist when I watched a butterfly land on a rose, fly off and then fly back to investigate further! I was thrilled to think that I had fooled a butterfly!
Pink Cold Porcelain Rose Pin
This lovely pink rose pin was handmade from cold porcelain and makes a lovely gift for that lady who has everything (except a pink rose pin). No tools or molds were used in the creation of these flowers. Once formed, they were left to air dry, becoming hard and very durable. The pin is 3" long from tip to tip and about 1 1/4' wide. It can be worn on a jacket, as a hat pin or even for decorative purposes on a purse.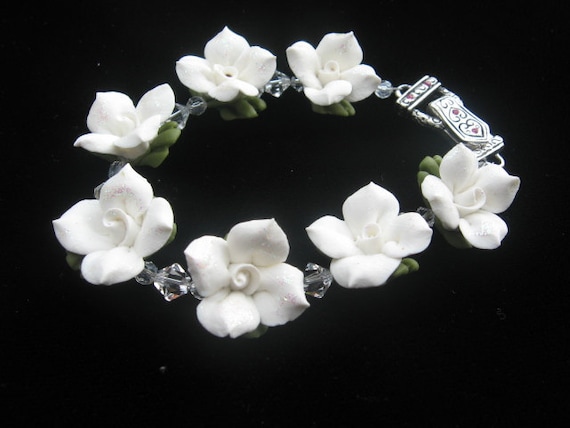 Handmade flowers, made from cold porcelain, are combined with clear Swarovski crystals for a bracelet that can be worn anytime, anywhere. This bracelet is 7 1/2" long and has a lovely silver fold over magnetic clasp. . Each petal was made individually by hand, no tools or molds were used in the creation of these flowers which then air dried to become hard and durable.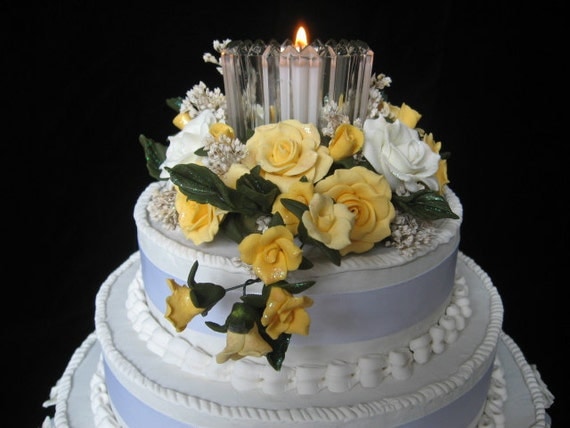 Yellow and White Floral Cake Topper
This floral cake topper was handmade from cold porcelain and will last for many years after your special day. That enables you to use your imagination as to how you can use it as part of your decor. Each petal has been shaped by hand, no tools or molds were used in their creation. Once formed, the flowers air dried to become very hard and durable. The cake topper is 5" wide and includes a votive candle holder. The flowers can be cleaned with a damp cloth, a hair dryer or canned air.
.¸.•´¸.•*´¨) ¸.•*¨)
(¸.•´ (¸.•` ♥
Click
HERE
to visit Norma

's

Etsy Shop
and see more of her beautiful Cold Porcelain Roses!
(¸.•´ (¸.•` ♥
Thank you for stopping by for my Etsy Finds Friday post!!
Please stay tuned for next Friday's Find... It could be YOU! :) Happy Friday!!
~Trina