It's Etsy Finds Friday and today I thought I would do my Friday Feature a little differently... I always see such wonderfully created vases on Etsy, and I thought I would share a few with you today. Click on the images to see more about each piece and don't forget to visit each of these great shops to see more of their wonderful handmade creations. Enjoy!
by Kris Cravens of Kris Cravens Pottery
This purse vase was designed from a 1940's purse that Kris found among her mom's things. She can remember as a little girl dressing up in her shoes and dragging all of her purses out to play. This little vase was made with those great memories in mind. It has a rattan handle and can hold a dozen tulips or just a few. It measures from top to bottom 9 inches and is 5" wide by 3" deep. This would be a great gift for mom any day!
Round Vase with Dragonflies and Flowers
by Terry Myhren of Terry's Pottery Place
What a little gem this is. It's loaded with amazing detail and the cutouts really set it apart. The tile work on the rim also adds nicely to this piece. It also was trimmed on the bottom with a nice foot and smoothed out so it will not scratch whatever you place it on. It stands 4 inches high x 6 inches wide. This piece will go from Terry's hands to your house and with a tea light inside...well, you have to see it to really appreciate that effect.
Tutorial ~ Polymer Clay Vase
by Eugena Topina of Polymer Tutorials
Eugena is very happy to introduce this new ste-by-step tutorial explaining how to cover a glass vase with polymer clay and how to decorate it with gemstones and sculpted flowers and leaves. There are 23 pages and almost 60 big full-color pictures showing every step. Some previous experience with polymer clay is helpful, but not necessary.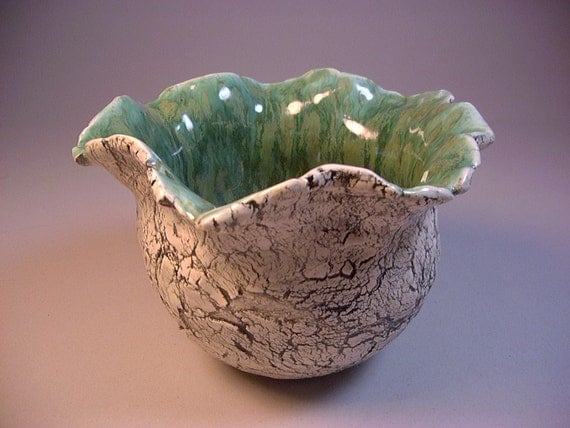 by
Dana Morton of Earthborne Art Ceramics

Dana likes to pinch the clay until it cracks creating this great earthy texture on the outside of the pinch pot. The inside is a combination of mossy green glazes. It measures: 4 1/2" High by 6"W.
(¸.•´ (¸.•` ♥
Thank you for stopping by for my Etsy Finds Friday post!!
Please stay tuned for next Friday's Find... It could be YOU! :) Happy Friday!!
~Trina