It's *
♥
*
Etsy Finds Friday*
♥

*
Today I am featuring the
Darling Headbands and Bows
Created by:
Sandy's Bangles and Bows
Today I am happy to be featuring my Mom's brand new Etsy Shop! She's creating these darling Headbands for little girls using buttons and bows. Some of them have her own polymer clay designs, little animal faces, incorporated in the design. Here are a few, you can click on the image to see the listing in her shop.
I always loved Ladybugs ~ so cute with their polka dot wings. This Ladybug found the perfect home nestled into a black and white Gingham bow. The headband is very soft and stretchy and will not leave marks on your little one's head. Great for everyday wear or for special occasions.
There a little puppy peeking out of the silk flower on this bright red headband. The puppy was created out of polymer clay and has glass beads for his bright little eyes. A chiffon bow with a crystal decorates this already darling headband, a delight for any little girl.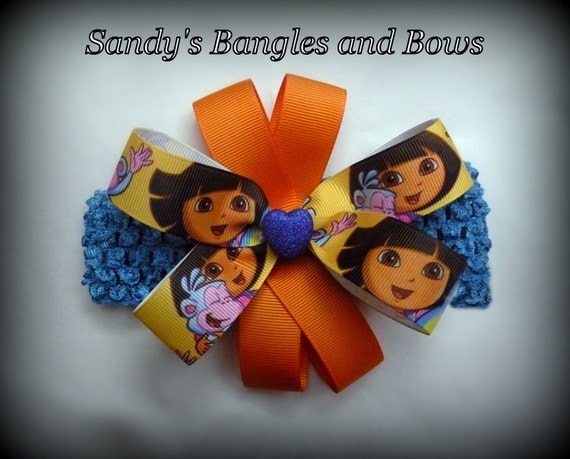 Dora the Explorer and Boots Headband
Is there a Dora the Explorer fan at your house? She would be delighted with this big 5" brightly colored bow featuring Dora the Explorer and her monkey Boots. Take notice of the glittered blue heart which compliments this beautifully blue colored headband.
.¸.•´¸.•*´¨) ¸.•*¨)
(¸.•´ (¸.•` ♥
Click
HERE
to visit
Sandy
's Bangles and Bows Etsy Shop and see more of her sweet headbands! You can also click HERE to visit her other Etsy Shop (Sandy's Creations in Clay), where you'll find her wonderful polymer clay artwork!
.¸.•´¸.•*´¨) ¸.•*¨)
(¸.•´ (¸.•` ♥
Thank you for stopping by for my Etsy Finds Friday post!!
Please stay tuned for next Friday's Find... It could be YOU! :) Happy Friday!!
~Trina