It's *
♥
*
Etsy Finds Friday*
♥

*
Today I am featuring the
Beautiful Rustic and Modern
Handmade Jewelry
Created by:
In the Artist's Own Words:
"Paciorky" means "necklace" or "beads" in my native Ukrainian language. Here you can find my handmade jewelry and accessories, which are made of different materials, but now mostly of polymer clay.

My name is Christine Bondar (dzjunka in the Internet) and I'm from Ukraine (Lviv). I'm an artist, a very creative person, philosopher and aesthete. Since I remember myself, I has been creating something. Maybe sometimes my creativity was too various, like literature and arts, but nevertheless in such way I always trying to express myself.

I spend much time, carefully making each bead with all my love and efforts, till that moment I finally like it and gratified at the outcome. But I enjoy the process very much! Every day I try to progress, go on and learn something new.
This is a beautiful handmade necklace in ethnic style. The square blue beads and the dark brown ones between them are made of polymer clay in ceramic imitation technique. They are composed with wooden beads, river pearls, mother-of-pearl, brass findings, leather and waxed cords. This bright accessory will make a wonderful accent to your clothes!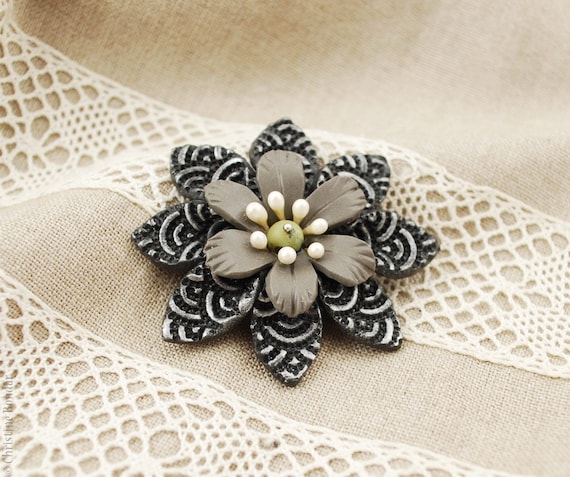 Black Flower Brooch
Lovely handmade brooch with a little chrysolite in the middle. It is made of polymer clay. The texture pattern on the petals gleams a little in silver. It can not only decorate your bright appearance, but will certainly raise your mood! ;)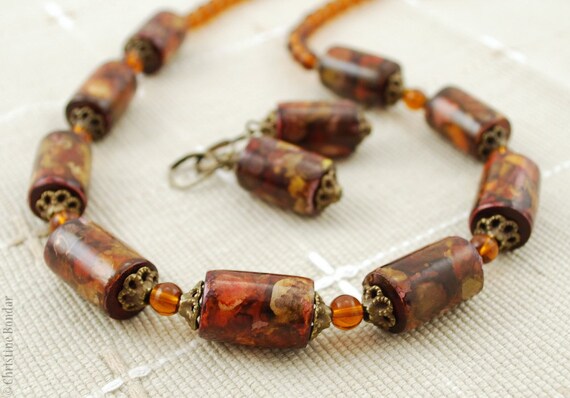 Elegant handmade set (necklace and earrings) with abstractions in autumn colors. Inspired by november. It reminds the spirit of late autumn, burned leaves, coffee and cinnamon. The necklace is composed of 9 tube beads, which I've made of polymer clay, painted and covered with gloss glaze, in combination with dark amber color glass beads and bronze findings.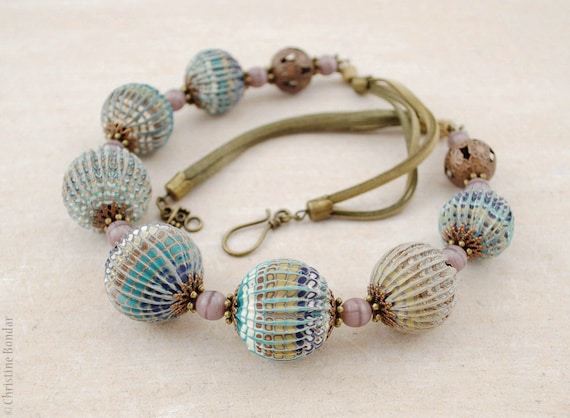 Amazon River Necklace
It's a really luxurious, spectacular necklace! Because of its cool colors, in an exquisite combination of indigo, aquamarine, sepia, beige and white, it reminds of the mighty Amazon River. The central elements are my own handmade polymer clay beads, wich change their size to smaller to the ends. The necklace is also composed of glass beads, small ceramic ones and copper beads, copper and brass findings, chamois cords. Each bead is carefully hand-carved and individual in its color, but all together they are united in a wonderful ensemble!
.¸.•´¸.•*´¨) ¸.•*¨)
(¸.•´ (¸.•` ♥
Click
HERE
to visit
Paciorky Art Studio and see more of Christine's Beautiful jewelry.
.¸.•´¸.•*´¨) ¸.•*¨)
(¸.•´ (¸.•` ♥
Thank you for stopping by for my Etsy Finds Friday post!!
Please stay tuned for next Friday's Find... It could be YOU! :) Happy Friday!!
~Trina