It's *
♥
*
Etsy Finds Friday*
♥

*
Today I am featuring the
Beautiful and Whimsical Soaps
Created by:
In the Artist's Own Words:
My name is Jenny. I love hugs! I believe in smiling till my face hurts and enjoy life and feel that it is so important to laugh. A lot. I enjoy what I do and I feel it shines through in my products. My soap is art. I never thought that soap could be an art medium but as you will see in my shop, I have so much fun with the freedom to create my soaps from all sorts of inspiration including nature, animals and even happiness.
**The Charming Frog has a whole list of scents YOU can choose from!
Click HERE to see the list and to read more about Jenny's soaps.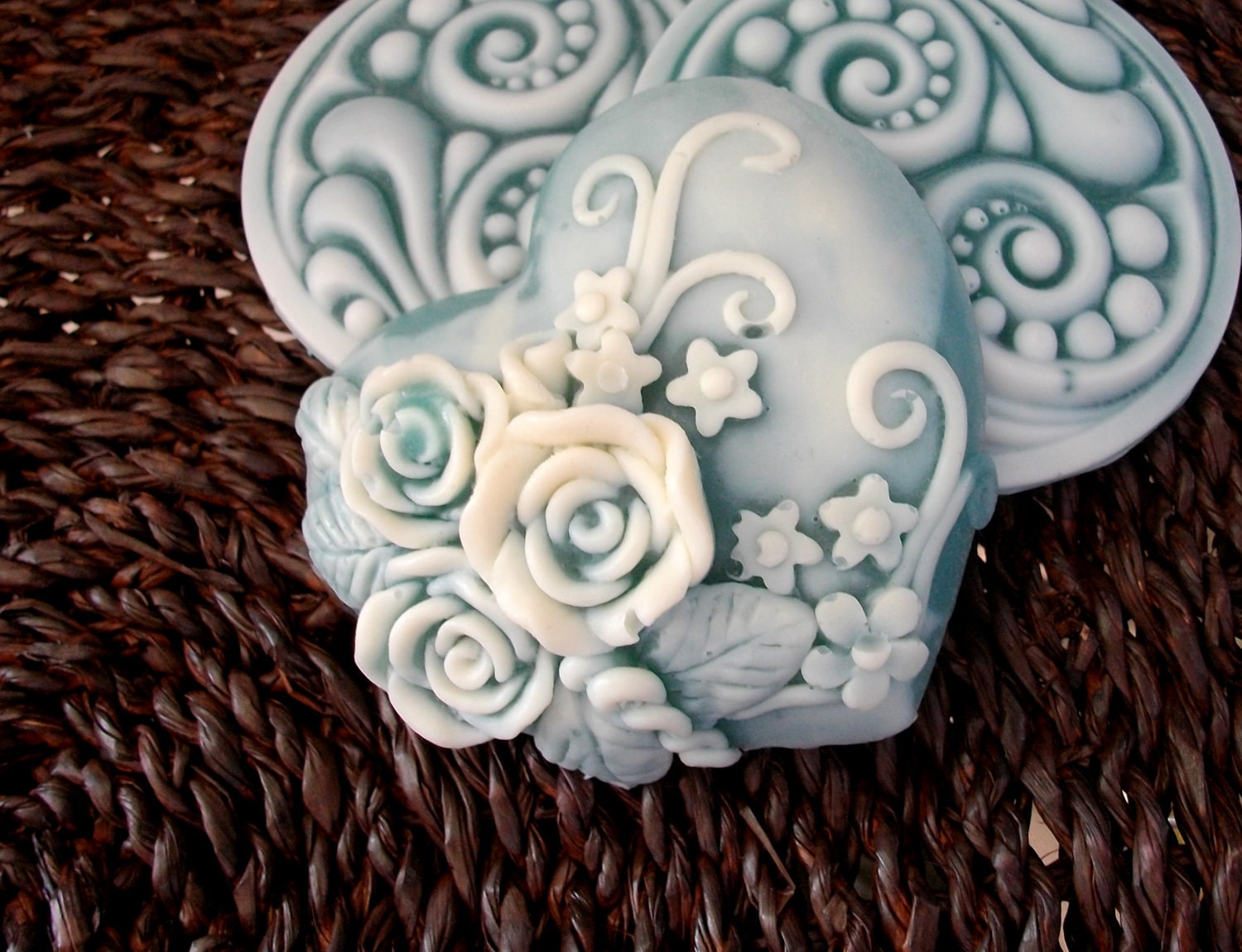 Soap Heart Set
Art Nouveau swirling in teal green and white. Great gift idea for the Art Deco, Art Nouveau lover. My favorite eras are the 20's-40's. I wish I was able to grow up in those times... the jewelry, the clothes, the art. Two 3" around, 3 ozs bars and 2.75" heart, 2.5 oz. Scented in Honeysuckle.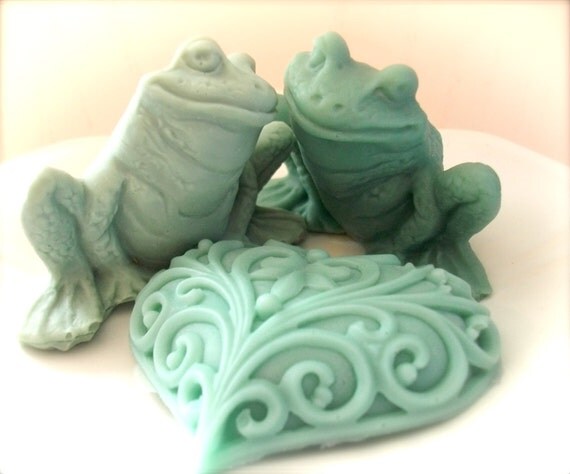 My love for frogs continues...here is an original frog soap set, handmade by me. They stand about 2.5" tall and weigh in at about 2 ozs each the heart is included with these two, hearts weighs 1oz. I wanted to find a perfect frog to represent The Charming Frog...and I'm certain I found it! Please welcome Freddy and Frieda, the new mascots for The Charming Frog! lol. To some of you who love my lip balm, they should look familiar to you... Scented in yummy peaches and cream, but by all means, if you have a scent in mind, let me know! Comes gift boxed in a cute heart box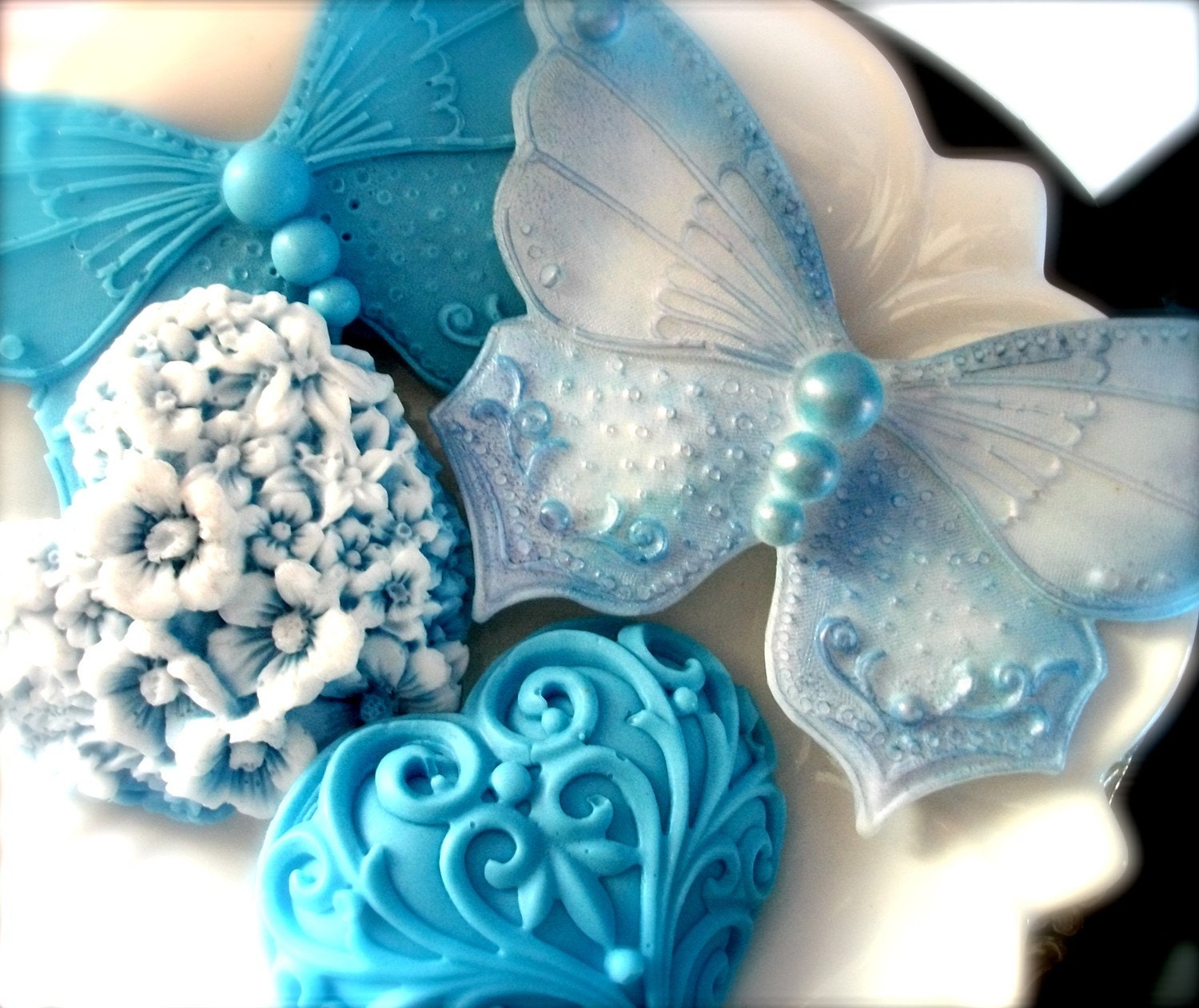 Handmade Orange and Lemon Scented
Vegetable Based Butterfly Blues
These 2 butterflies and 2 hearts ought to get you ready for Spring! Completely usable soap smelling of lemon and orange. Each butterfly measures 4"x4" and each heart is 2x2" Made of glycerin and cocoa butter. Comes gift wrapped. Perfect gift for that special someone, especially if that someone is you!!!
.¸.•´¸.•*´¨) ¸.•*¨)
(¸.•´ (¸.•` ♥
Click
HERE
to visit
The Charming Frog
and see more of Jenny's Beautiful Soaps!
.¸.•´¸.•*´¨) ¸.•*¨)
(¸.•´ (¸.•` ♥
Thank you for stopping by for my Etsy Finds Friday post!!
Please stay tuned for next Friday's Find... It could be YOU! :) Happy Friday!!
~Trina