It's *
♥
*
Etsy Finds Friday*
♥

*
Today I am featuring the
Handmade Creations by:
My Mom, Sandy Prenzi, is such an inspiration to me, so talented and artistic!
She has several shops on Etsy, showcasing her artistic talents,
and I am proud to share them here with you today.
The first is Sandy's Bangles and Bows, where she offers her handmade and very sweet hair bows and clips, wedding accessories (including beautiful Ring Bearer's Pillows), beautiful mini hats and much more... Here are a few, and you can click on the link above to visit her shop.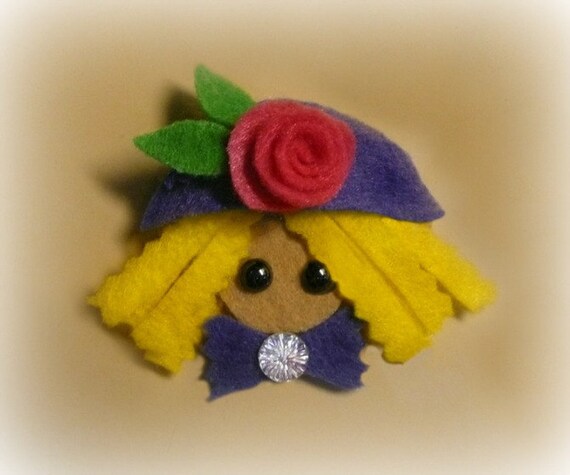 Penelope wants to show off her new Hat with the big pink rose. She measures 2.5" tall by 3" wide and has a hair clip attached to the back for easy placement. I created Penelope out of felt and adorned her bow with a shiny bauble. **Gift Boxed**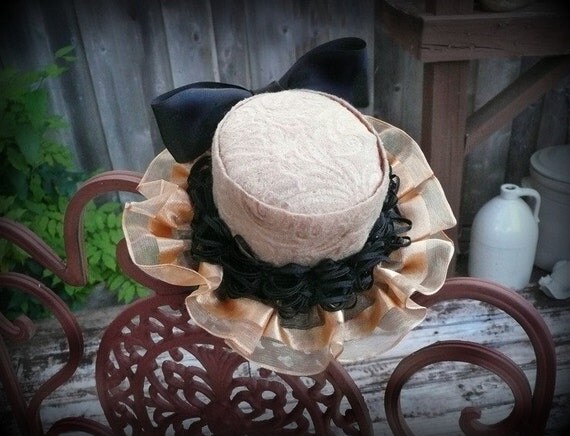 Tan and Gold Mini Hat
Mini hats are the rage and this sweet little mini hat is ready to wear on a photo shoot or to a party. It was created out of felt and ribbon and has a hair clip for easy placement.


♥•.¸¸.•´♥`•.¸¸.•´♥`•.¸¸.•´♥ •.¸¸.•´♥`•.¸¸.•´♥`•.¸¸.•´♥•.¸¸.•´♥`•.¸¸.•´♥`•.¸¸.•´♥
Next is Sandy's Creations in Clay, where she offers her whimsical and adorable clay creations. Below are a few of her polymer clay creations, and you can click on the link above to visit her shop.
Ima is a darling little book worm. She has on her very best hat and is ready to read her favorite book called "Down The Wormhole" by U. R. Wiggly. This little scene is made entirely out of polymer clay with the exception of Ima's wire rimmed glasses and her beaded eyes. The measurements are 3.5" wide by 3" tall.
Believe in Fairies and one may choose this pretty little purple fairy door to enter and call it her home. As you climb the steps you will see that the little doormat says BELIEVE. A birdbath summons the little birds and the doorway is surrounded with lavender roses, which is very appealing to the little fairies. Created out of polymer clay and embellished with rubber stamps and Lumiere Pearl paint. This little fairy door stands approximately 2.5" high by 3" wide.
♥•.¸¸.•´♥`•.¸¸.•´♥`•.¸¸.•´♥ •.¸¸.•´♥`•.¸¸.•´♥`•.¸¸.•´♥•.¸¸.•´♥`•.¸¸.•´♥`•.¸¸.•´♥
Sandy's newest shop is Novelties and Notions, where she offers things old and new... 'New' are her darling handmade pincushions and trinket boxes. 'Old' are fun patterns to sew your own lovely clothes. Below are a few of her pieces, and you can click on the link above to visit her shop to see more of her work.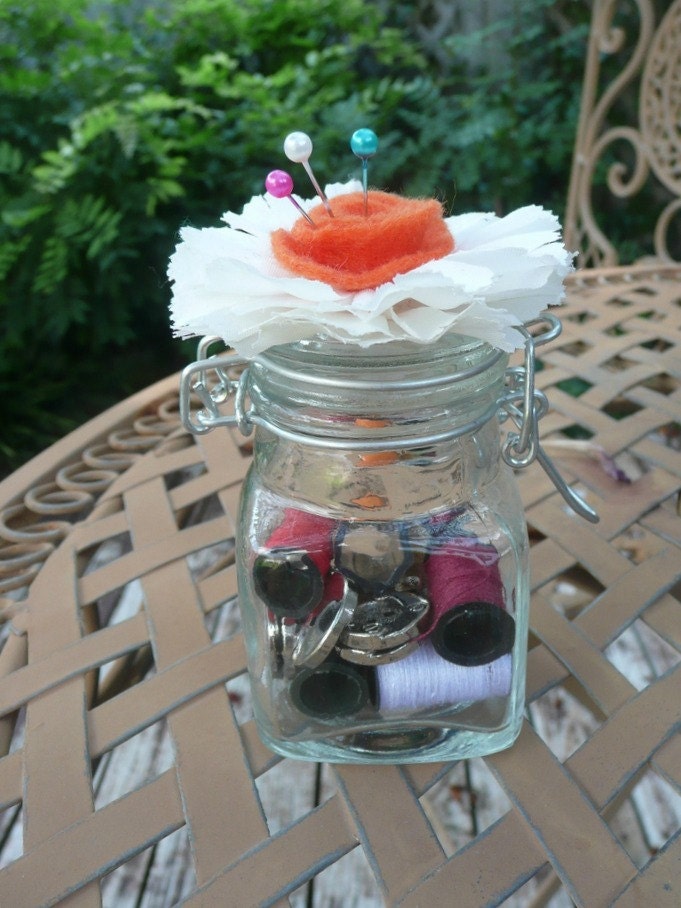 Filled with thread and buttons, this cute little mason jar has a tiny orange rosebud for a pincushion. Three little pearl colored pins are poking into the bud. I love the fact that it opens for easy access to the things inside. It is wonderful to give to as a shower gift. It stands 3.5" tall and is 2" wide and comes gift boxed.
Here is little Abrigail Mouse. She loves to sew and sits upon a box especially for your sewing notions. She's holding a little spool of thread and is looking very helpful. I created her out of polymer clay and used glass beads for her eyes, Little Abrigail is attached to the box. The dimensions are 4.75" tall including Abby. The box itself measures 2" tall by 3.5" wide, plenty of room for thread, needles, etc.
.¸.•´¸.•*´¨) ¸.•*¨)
(¸.•´ (¸.•` ♥
Thank you for stopping by for my Etsy Finds Friday post!!
Please stay tuned for next Friday's Find... It could be YOU! :) Happy Friday!!
~Trina