It's *
♥
*
Etsy Finds Friday*
♥

*
Today I am featuring the
Beautiful Pottery created by:
In the Artist's own Words:
I was born September 20, 1956 in Ann Arbor, MI. I moved to Brazil with my parents and siblings at age 2, where I lived for 22 years. I returned to U.S. in 1980 where I completed a B.S. in Computer Science and Math in 1985 at Northeastern Illinois University in Chicago. I moved to San Diego, CA. and later Eugene, OR., where I worked in the computer field until 1997. I held a position with University of Oregon from 1990-1997. I began doing pottery by learning hand-building and wheel-throwing skills at the University's Craft Center in 1990. I continue developing until today as a self-taught potter, and by taking numerous workshops and learning from other accomplished potters. I am also a licensed massage therapist and work full-time in this field. I guess I just like using my hands in everything I do!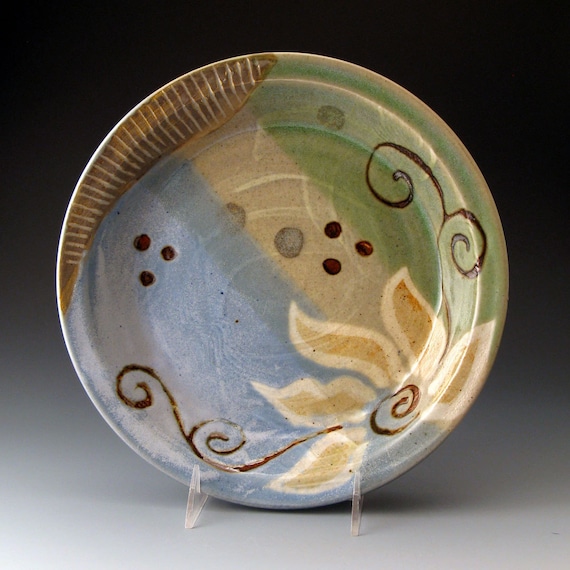 Pottery Stoneware Pie Plate with Flower
If you love pie as I do, then this beautifully hand painted pie plate is perfect for baking that awesome pie that can only be so good because it's made in a classic ceramic stoneware plate!
Whether your idea is to make a traditional apple pie, a summer raw fruit pie or a french onion and gruyere quiche, you are bound to enjoy it in every way. This pie plate with a whimsical and fun flower design is made of white stoneware clay, wheel-thrown, glazed with light blue, celadon and apple green glazes, decorated with slips and wax-resist designs, and then fired to cone 10 (high-fire) in a gas reduction kiln.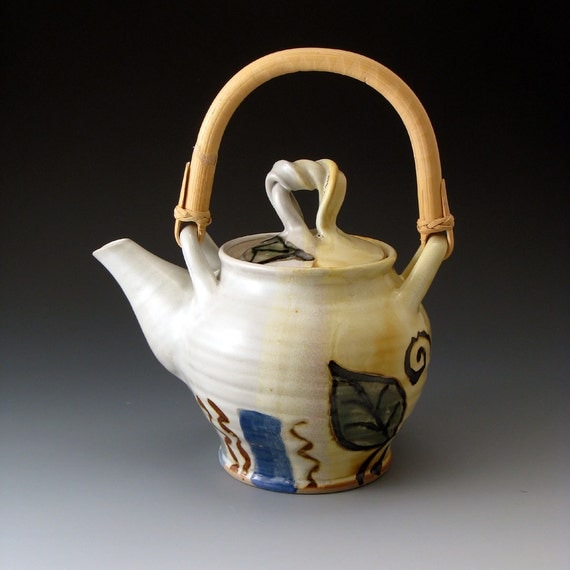 Teapot with Leaf Motif and Cane Handle
This one-of-a-kind hand painted, fully functional teapot is perfect for afternoon high tea with friends or evenings sipping bedtime tea while the rain patters against your windows. It has an English cane handle and a built-in strainer for loose leaves as well as tea bags. The spout pours very well without spilling, as I pay particular attention to this detail.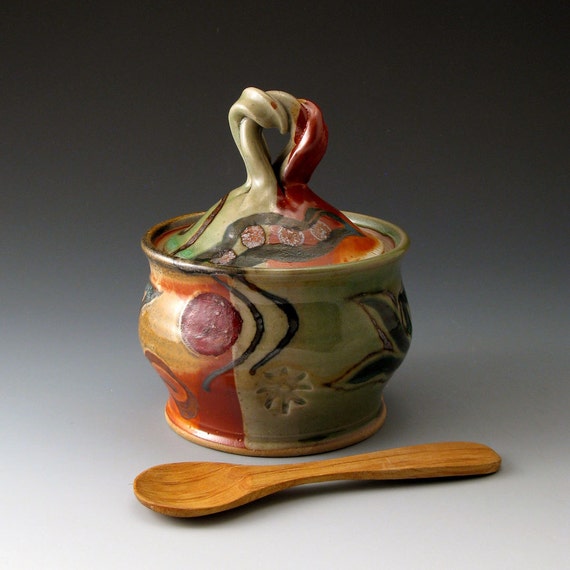 This adorable one-of-a-kind handmade sugar bowl has so much personality! I made it using white stoneware clay, wheel-thrown and altered, decorated with my original wax-resist technique and slip designs, then dipped in multiple Shino, Celadon and Apple Green glazes and high fired to approx. 2400F in a gas reduction kiln.
.¸.•´¸.•*´¨) ¸.•*¨)
(¸.•´ (¸.•` ♥
Click
HERE
to visit Tracie

's

Etsy Shop
and see more of her incredible Pottery Creations!
(¸.•´ (¸.•` ♥
Thank you for stopping by for my Etsy Finds Friday post!!
Please stay tuned for next Friday's Find... It could be YOU! :) Happy Friday!!
~Trina