It's *
♥
*
Etsy Finds Friday*
♥

*
Today I am featuring the
Unique Ceramic Sculptures
Created by:
In the Artist's own Words:
I am a full-time ceramic sculptor specializing in animals. I have a particular fondness for building creatures on antique toys and also enjoy creating custom pieces.

Because of my love for the natural colors and textures of clay, I have developed a technique of incorporating different-colored clay bodies into a single piece, and I finish my work with stains that highlight the natural colors and textures rather than glazes that cover them. Thus, contrasting earth tones add vibrancy while the natural beauty of the clay is retained.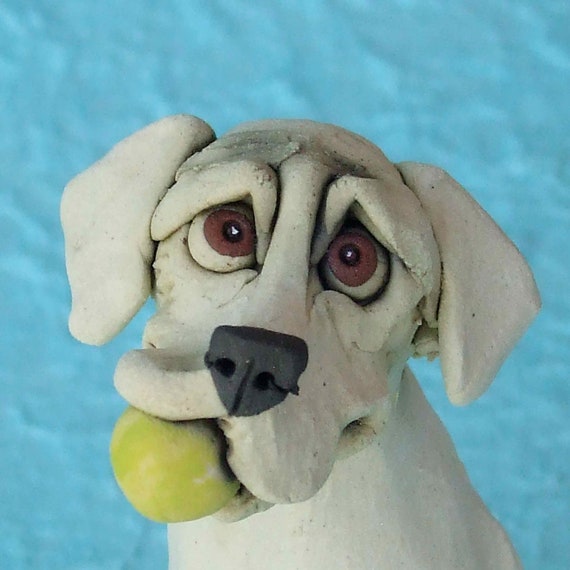 Labrador Retriever Dog Holding Tennis Ball
If you have a ball-obsessed dog like mine, this sculpture will make you smile. This happy white lab holds a prized ball in his mouth and asks a pressing question with its soulful brown eyes: Wanna play? The sculpture is made of different colored clays, finished with stains and paints and fired to cone 5. It measures about 5.25 inches high.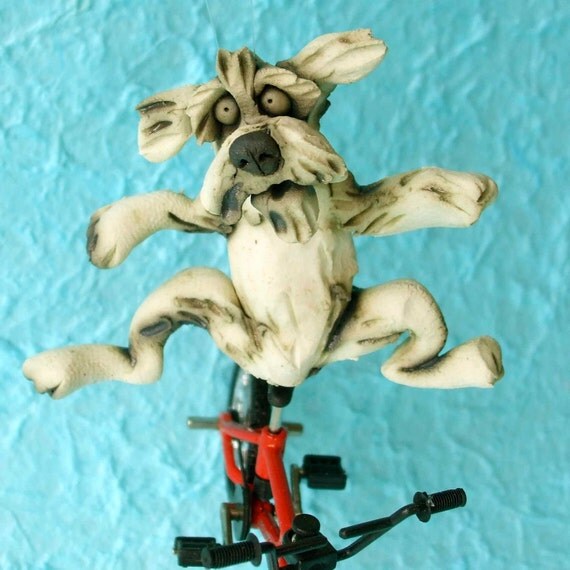 Dog Riding a Bicycle Sculpture
This piece is modeled after my own dog, a crazy doodle who is always ready for adventure. A furry white pooch-- a doodle perhaps or maybe a terrier?- joyfully coast through the air on a red bicycle. The sculpture is designed to hang by a fishing line. Let the joy-riding pup fly in front of a window, dangle from a shelf-- you can even use it as an ornament on your holiday tree! The sculpture stands about 5.5 inches long and 4.5 inches high.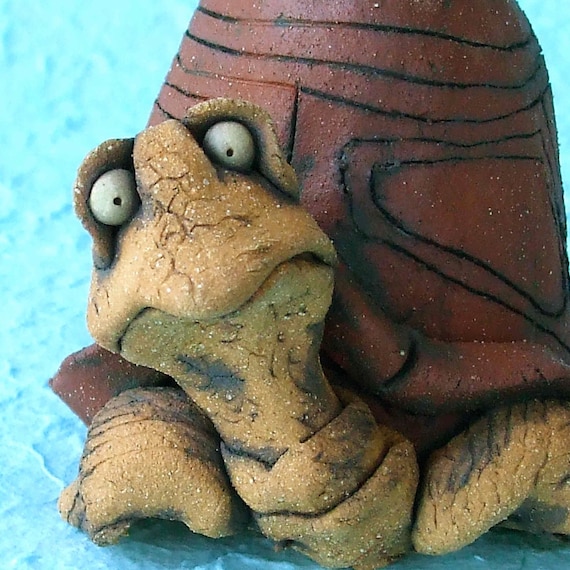 Turtle Vase Ceramic Sculpture
Here's a friendly turtle to brighten your day. Perhaps the puzzled expression on the face of this this adorable terrapin stems from the placement of a vase in its shell. While the turtle is created from three different colored clay bodies and finished with stain to highlight the rich earthy textures, the interior of the vase is finished with a textured blue/ green glaze and so can hold fresh or dried flowers. The perfect accompaniment to a small bouquet of flowers plucked from your spring or summer garden. This functional sculpture was fired to cone 5 and measures 3.5 inches tall.
.¸.•´¸.•*´¨) ¸.•*¨)
(¸.•´ (¸.•` ♥
Click
HERE
to visit Jennifer

's

Etsy Shop
and see more of her Awesome Ceramic Sculptures!
You can also visit her website to see more of her work at
http://www.RudkinStudio.com
.
(¸.•´ (¸.•` ♥
Thank you for stopping by for my Etsy Finds Friday post!!
Please stay tuned for next Friday's Find... It could be YOU! :) Happy Friday!!
~Trina