It's *

♥

*

Etsy Finds Friday*♥

*
Wonderful Textile Art
Created by:
I love the beautiful Textile Artwork Aileen creates!
Lovely vivid colors and textures!
It the Artist's Own Words:
Hi, my name is Aileen and I live in rural Fife in Scotland. I am an Artist and Designer Maker, working from my cottage studio here in the beautiful Fife countryside. I went to Art College in the 1990's to study design then went into floristry for many years. I have since built up a flourishing cottage industry over the past few years making my Fused Fabric and Fibre Crafts. I now make a wide range of textile art, craft and jewellery some of which is available for you to buy here on Etsy. I love using wet felt and needle felting techniques and I'm the proud owner of a fabulous Embellisher Machine. I like experimenting with colour and texture, using up fabrics from unwanted garments and other sources. I also use hand dyed, hand spun yarn in my work which I collect on my travels around Scotland and Ireland.
Sheep Pendant
This little felt landscape is made using wet felting and needle felting techniques. I use pure
merino wool and silk fibres in lovely heathery tones to make the background. The sheep are
needle felted on by hand.The landscape is then mounted in a silver tone bezel measuring
3.5x3.5cm and comes with the silver plated snake chain shown in the last photo.
Chain measures 18 inches long and 2mm thick.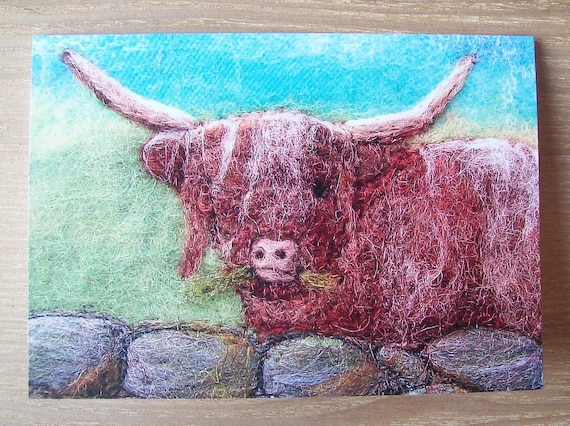 Highland Cow Greeting Card
Highland cow greetings card. This is a high quality, professional print of one of my most popular Handmade Felt Pictures featuring Harvey the highland cow.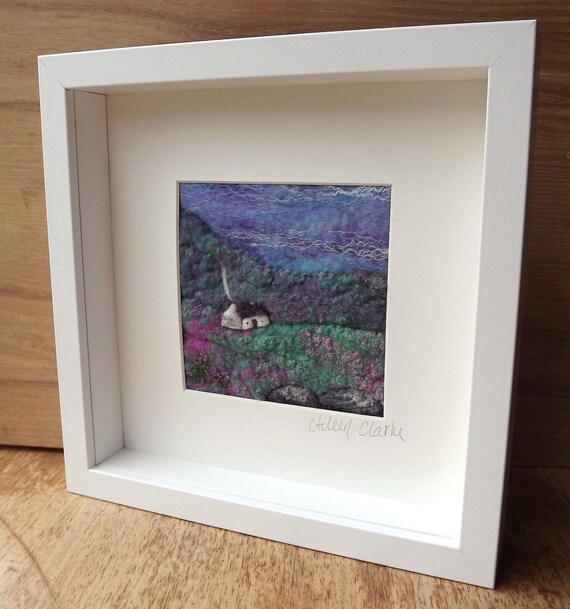 Fraoch Cottage ~ Felt Picture
Hillside scene made with felting fibres and embroidery.
For this piece I have used my own handmade felt on a wet felted background.
The hills are made with a fusion of merino, scrim and silk fibres creating beautiful
little patches of unusual colour and texture.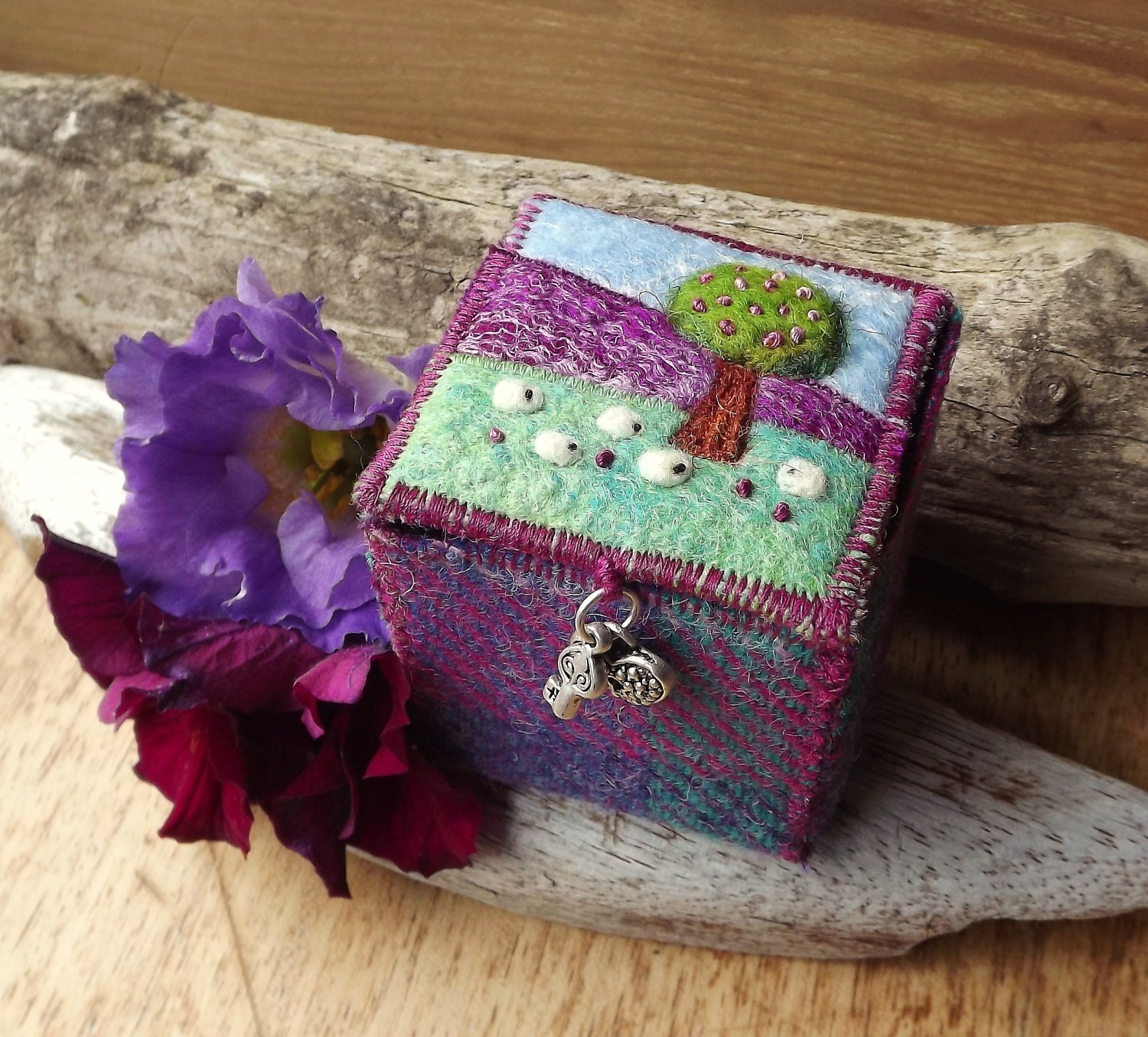 Trinket Box
This little box has been handmade using genuine Harris tweed and handmade felt.
The walls and base are made with genuine Harris Tweed, lined with purple cord velvet. This particular tweed features soft pastel blues, pinks and greens blues which blend perfectly with the soft shades of the felt and make a pretty surround for the little landscape.
Measures 6cm cubed.
.¸.•´¸.•*´¨) ¸.•*¨)
(¸.•´ (¸.•` ♥
Click
HERE
to visit Aileen's Etsy Shop
and see more of her Beautiful Textile Artwork! You can also visit her website at:
www.AileenClarkeCrafts.com
.¸.•´¸.•*´¨) ¸.•*¨)
(¸.•´ (¸.•` ♥
Thank you for stopping by for my Etsy Finds Friday post!!
Please stay tuned for next Friday's Find... It could be YOU! :) Happy Friday!!
~Trina