It's *
♥
*
Etsy Finds Friday*
♥

*
Today I am featuring the
Fine Art Jewelry
Created by:
Kate Tracton
of Kate Tracton Designs
"Attention to detail, high-quality craftsmanship,
and beautiful embellishments make each
of her pieces a work of art."
In the Artist's Own Words:
Entirely self-taught, I've been making beaded jewelry in my home studio since 2004, specializing in complex beadweaving and bead embroidery.

In December 2009, I added polymer clay to my materials arsenal. Making jewelry using the millefiori, or caning, process is very exciting and fulfilling. I build colorful beads and jewelry which I sell here on Etsy, on my website, and at craft shows.


Years ago, an accident provided me an opportunity to explore the process of creating jewelry as works of art. From the early days of simply stringing beads together to make pretty patterns, to currently using polymer clay as a basis for spectacularly beaded wearable art, each day I spend in my studio is a joyful experience.
Kate used a beautiful porcelain raku-fired button as the central focus of this sparkly necklace. The button has a shiny glaze with a rainbow of color from copper to seafoam green to red.
The neck strap is a double spiral rope with Czech fire-polished crystals and beads carefully color-matched to the button. Glass seed beads add dimension and subtle color. The ropes are finished with copper bead caps and copper melon beads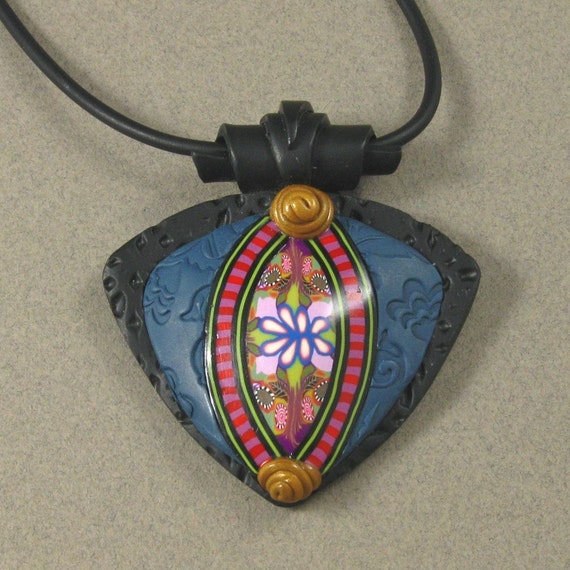 Asian Inspired Polymer Clay Pendant
Kate says that this pendant reflects her love of polymer clay. The central motif is made from a slice from a kaleidoscope cane with floral-textured blue clay surrounding the pink motif. The frame is a piece of black clay sporting a stippled texture. The finishing touch is a pair of metallic gold clay knots.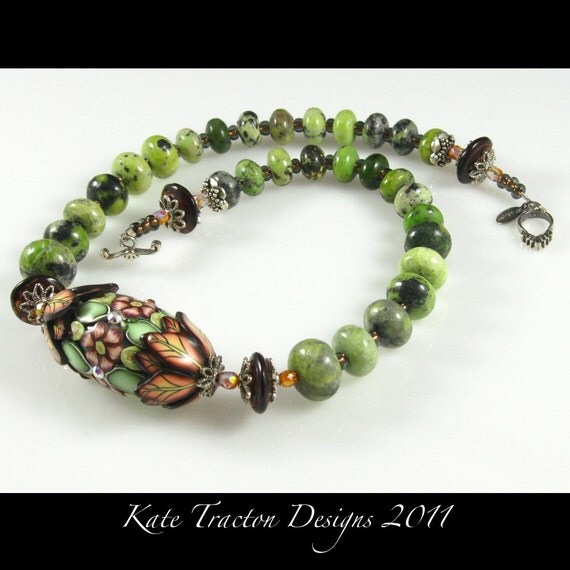 Polymer Clay Drum Bead Necklace
Kate's most intricate polymer clay drum bead, so far, is the central feature of this colorful necklace. The bead was made from slices of several different clay canes: flowers, bullseye lace, and finished up with leaves of yellow, orange, and brown. The bead was baked, sanded, buffed, and coated with acrylic for a glossy shine. The finishing touch are five Swarovski flatback crystals for added sparkle.
Kate made this charming little ring bowl from one of her kaleidoscope canes which she then edged with a playful striped border. The tomato red under layer serves both as visual interest and reinforcement of the bottom of the bowl. A set of navy blue feet add a sassy attitude. After curing, Kate sanded the interior of the bowl to a satiny smooth finish.
.¸.•´¸.•*´¨) ¸.•*¨)
(¸.•´ (¸.•` ♥
I absolutely LOVE all of the pieces created by Kate Tracton, it was difficult to choose just a few to feature here today!! Click
HERE
to visit Kate Tracton Designs and see more of her beautiful handmade jewelry!
(¸.•´ (¸.•` ♥
Thank you for stopping by for my Etsy Finds Friday post!!
Please stay tuned for next Friday's Find... It could be YOU! :) Happy Friday!!
~Trina