Welcome to my 33rd post featuring the amazing polymer clay artwork created by six of the members of our PCETeam on Etsy!! The diversity in creativity and style is wonderful!! Enjoy, and be sure to check out their Etsy Shops to see more of their wonderful items.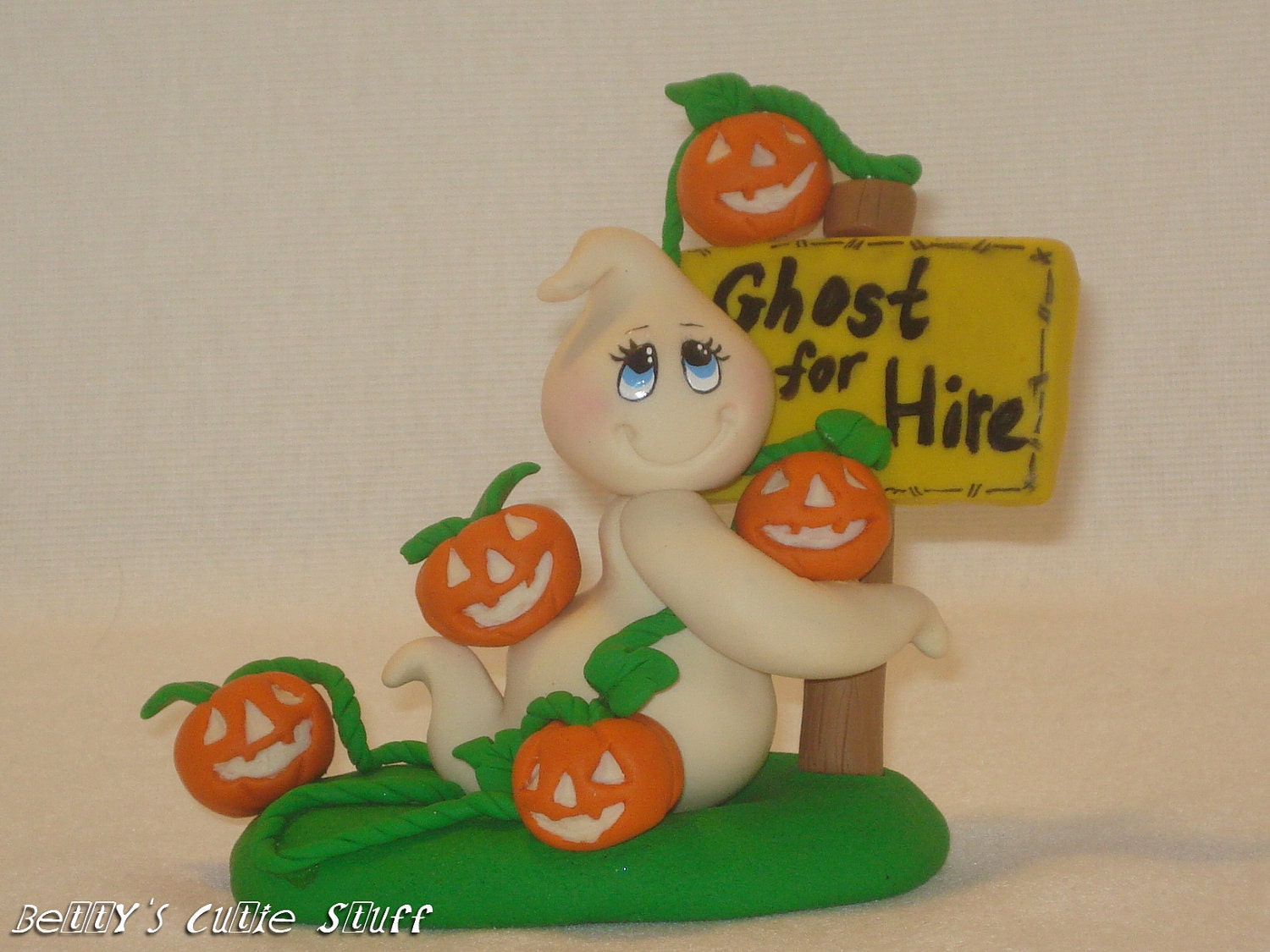 Ghost For Hire
Halloween Polymer Clay Figurine Glow in the dark ghost hand sculpted.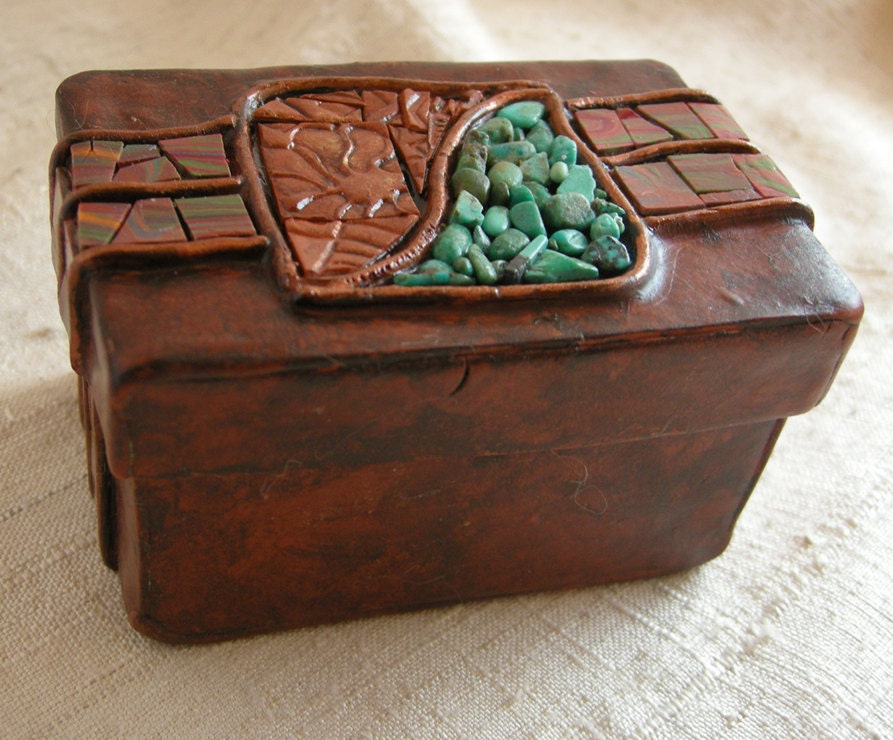 Genuine Turquoise Mosaic and Faux Leather Treasure Box
Handsome faux leather, mosaic and genuine turquoise mosaic inlay treasure box would make a wonderful one of a kind gift box for a very special gift as well as a beautiful table top accessory and/or addition to a treasured collection.
I hand sculpted this doll using Sculpey clay with an armature underneath the clay for support. She was painted in acrylics then sealed with a varnish. I used plastic doll eyes and yarn for the hair. I made the dress with fabrics and then hand stitched the back. This piece is a collector's item only. It is delicate and not intended as a toy. She measures almost 11 inches from head to toe. Her arms and legs are posable. This doll is signed & dated on her bottom.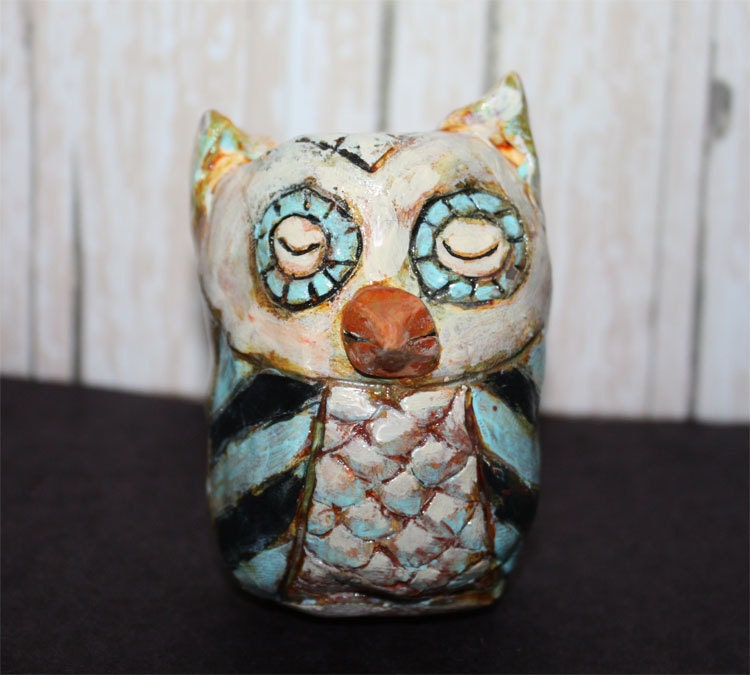 Owl Folk Art Clay Sculpture
This is a handcrafted one of kind clay sculpture of an owl. This wise guy is 3 inches tall and 2 inches wide. He is hand sculpted, hand painted and antiqued with great attention to the little details. A great little addition to your owl collection…or a great reason to start one!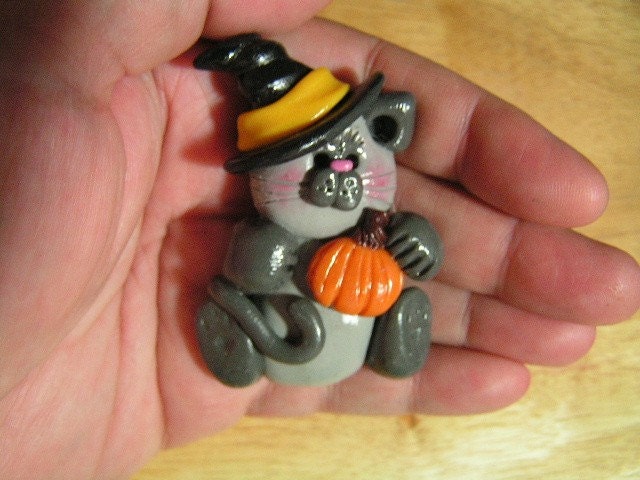 Grey Halloween Cat Pin
This cute little Kitty is ready for Halloween with her Witch's hat and pumpkin. All of my pins are made of a unique mixture of polymer clays hand-mixed and hand-formed by me.They range from around 2- 2 1/2 inches high.Some have touches of sparkly glitter- all are made with love.
Time For Tea Charm Bracelet ~ Yellow
♥ Features: ▪ Handcrafted ▪ Hand-painted
▪ Charms Featured:
White Tea-filled cup with Yellow Polka-dots - Chocolate Iced Biscotti - Lemon Heart Tart - Silver Teaspoon - Lemon Square - White Iced Cookie Wedge - Yellow Tea-Pot with White Polka-dots


.¸.•´¸.•*´¨) ¸.•*¨)
(¸.•´ (¸.•` ♥
Thank you for visiting, please stop by again for post number thirty-four in my series, featuring more of our PCETeam members!! Wishing you a Happy Day!!
~Trina