Welcome to my 34th post featuring the amazing polymer clay artwork created by six of the members of our PCETeam on Etsy!! The diversity in creativity and style is wonderful!! Enjoy, and be sure to check out their Etsy Shops to see more of their wonderful items.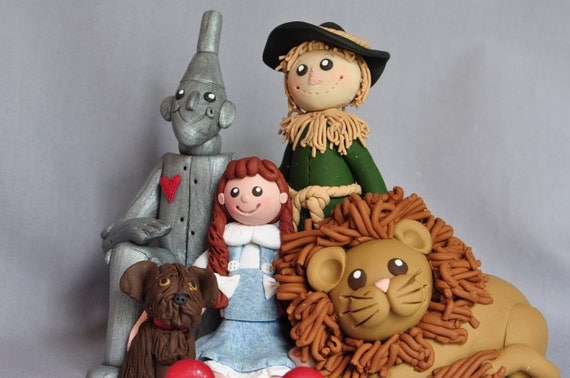 Wizard of Oz Figurine
We're off to see the Wizard, The Wonderful Wizard of Oz! This delightful group is handsculpted from various colors of polymer clay. The group includes Dorothy in her blue and white dress and ruby slippers, Toto, The Tinman in silver metallic clay (with his new heart), Scarecrow in green, brown and tan, and the golden Cowardly Lion with his full, fluffy brown mane. The characters are attached to each other, not separate sculptures. The group is approximately 3.5 inches high and 5 inches across.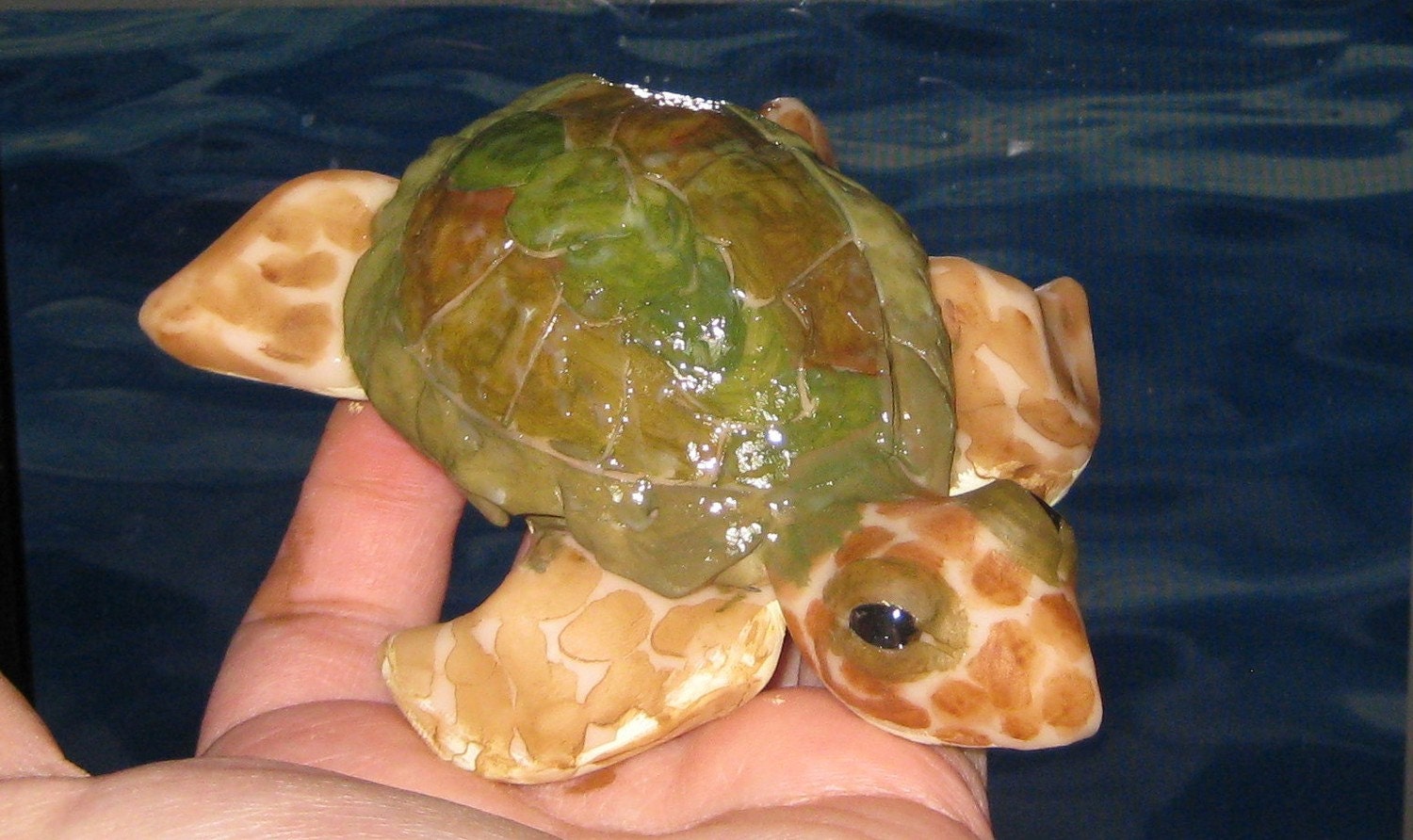 Sea Turtle Pot Hanger Figurine
Swimming swimming in the sea, come take a look at this sweet sea turtle, as cute as can be! Lovingly created by me, sea turtle is constructed out of 100% NON TOXIC polymer clay. It looks real! Turtle has one fin that hooks over the edge of anything you decide to place her on for unique decoration. Turtle is about 4 inches long from fin to fin. Lovingly hand painted details adorn every inch, and shell and eyes are glazed for extra shine.
These three little guys are ready for Christmas :) They are showing off their Christmas spirit by wearing their little santa hats. The loops are made of Jute they are about 1 1/4 high, and would be just precious hanging from the Christmas tree :)
Here are 8 decorated Christmas cookies on a metal tray. The tray measures 1 3/4" long and everything is glued to the tray. The cookies are made of polymer clay and this item is 1:12 scale.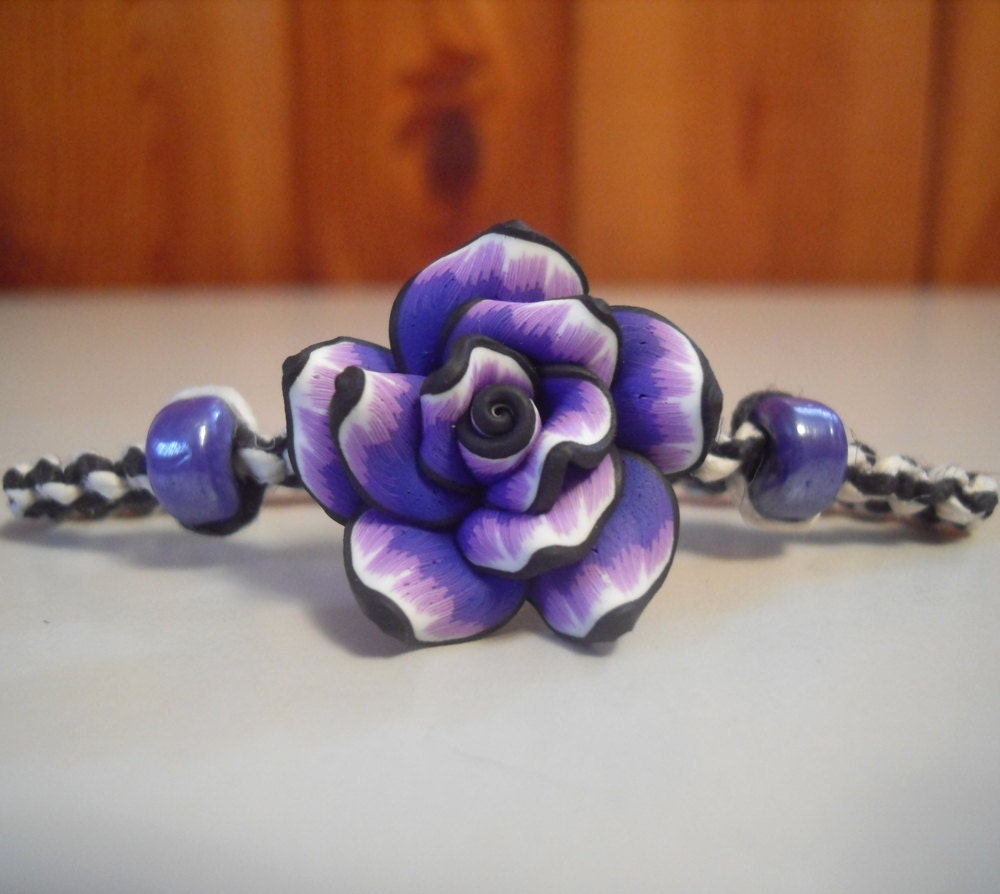 Purple Tie Dye Rose Hemp Bracelet
This bracelet is made with black and white hemp cord. It has metallic purple glass beads, and a pretty purple polymer clay rose focal bead in a tie dye pattern. It measures approx 1 inch.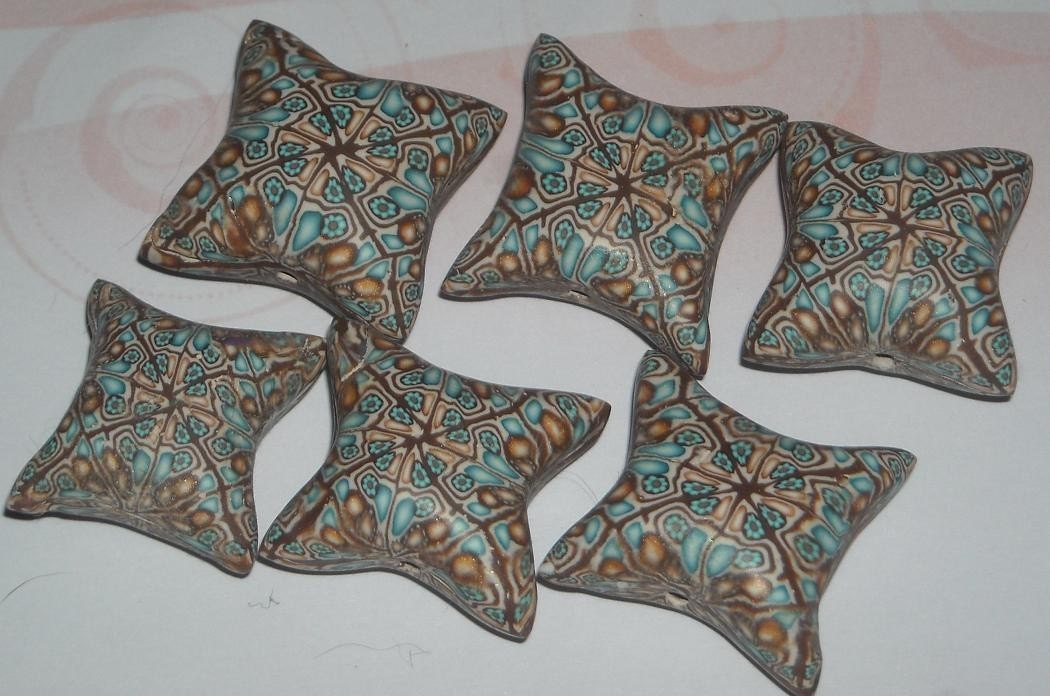 Desert Bloom Polymer Clay Handmade Pillow Beads
6 handmade polymer clay blue, gold, and brown pillow beads. Sanded and buffed for a beautiful natural sheen.


.¸.•´¸.•*´¨) ¸.•*¨)
(¸.•´ (¸.•` ♥
Thank you for visiting, please stop by again for post number thirty-five in my series, featuring more of our PCETeam members!! Wishing you a Happy Day!!
~Trina