Welcome to my 31st post featuring the amazing polymer clay artwork created by six of the members of our PCETeam on Etsy!! The diversity in creativity and style is wonderful!! Enjoy, and be sure to check out their Etsy Shops to see more of their wonderful items.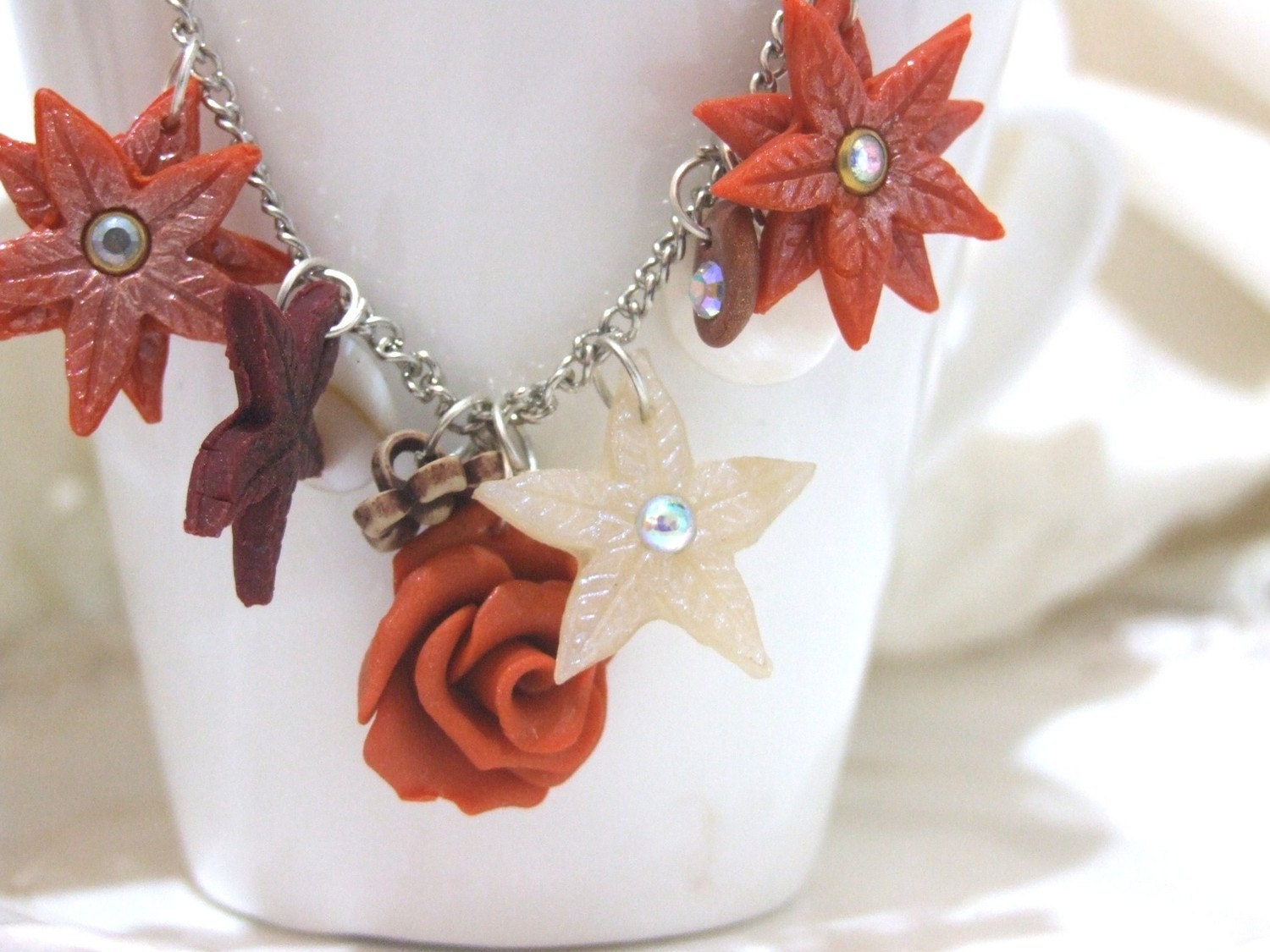 Winter Party Polymer Clay Necklace
This is a special handmade necklace, with handmade
polymer clay flowers in warm winter colors.
Polymer clay, peacock shaped brooch
length 82 mm width 23 mm ( largest part) with a brooch pin on the back.
Hullo Thar ~ Polymer Clay Bird Figurine
This adorable polymer clay figurine is hand-crafted from Sculpy III Clay!
Being a simple person isn't a bad thing, take it from this bird! Though some people might mistake him for being stupid, he just enjoys life best by observing and listening. To some he might be letting life pass him by, but I assure you, he's quite content. One problem is he's a follower, not a leader, and is too willing to comply with just about anything. Heck, if you demanded his bag of popcorn, he'd probably just hand it over.
Oh what an outing! This mischievous cat is in his element. Now if he could only get passed the aquarium glass! Aquarium Visit is a combination of an original acrylic painting and original polymer clay relief sculpture. The image is 4" x 6" and is matted in a white acid free mat. The overall size including the mat is 8" x 10" with a depth of 1.25".
Aquarium visit is NOT framed but will easily fit into a
ready-made shadow box frame.
These sweet little angels holding a crystal ball are made out of polymer clay by me. They come in different colors and can be custom made if you do not see the color you are looking for. They can hold small pictures, business cards, or even name place holders for weddings.
(Listing is just for one angel)
Segismundo Miopo Art Doll
Segismundo Miopo is sculpted with polymer clay over a strong armature
covered with polyfil allowing repositioning some parts of his body. Size of Segismundo: 7.9 inches. His suit is sewed by hand with fabrics and findings of the best quality by myself
(some of the fabrics may look old but they are not,
have been treated for me to have that effect)
Painted with acrylic painting.
Segismundo is accompanied by with his book and three friends spiders.
"I love making dolls, so every one of them are
made with large pieces of my heart.
Each one of my sculptures is created with no use of
any molds, therefore is absolutely unique and cannot be duplicated."
.¸.•´¸.•*´¨) ¸.•*¨)
(¸.•´ (¸.•` ♥
Thank you for visiting, please stop by again for post number thirty-two in my series, featuring more of our PCETeam members!! Wishing you a Happy Day!!
~Trina