It's *
♥
*
Etsy Finds Friday*
♥

*
Today I am featuring the
Beautiful Handmade Sterling Silver
Created by:
Lavender Cottage
In the Artist's words:
My passion for art began as a six-year-old growing up in Chicago. My mother was an art student, and I was fascinated by her oil painting and jewelry projects. Trips to Chicago's fabulous Art Institute came often, further instilling the love for art that would become a constant in an eclectic career path ranging from horsewoman to freight pilot to computer programmer. Our family's organic garden and frequent camping trips nurtured a love for nature, especially flowers and rocks, which finds its way into much of my work today.
I started making jewelry when I was given a gift of handmade earrings from a friend. I was amazed that she had made them herself. I bought some beads that very week, and learned how to make earrings. Since then, making jewelry has been a passion and a joy that keeps the rest of my life in perspective. My style has evolved and grown over the years, and I am now a full time metal smith, mostly self-taught.
Hammered Copper Cuff with Brass Flower
A rustic copper cuff, hand cut and hammered into a rufflled edge, is accented with a sweet brass buttercup. Bring the relaxation of a walk in the woods to your busy day when you wear this cuff.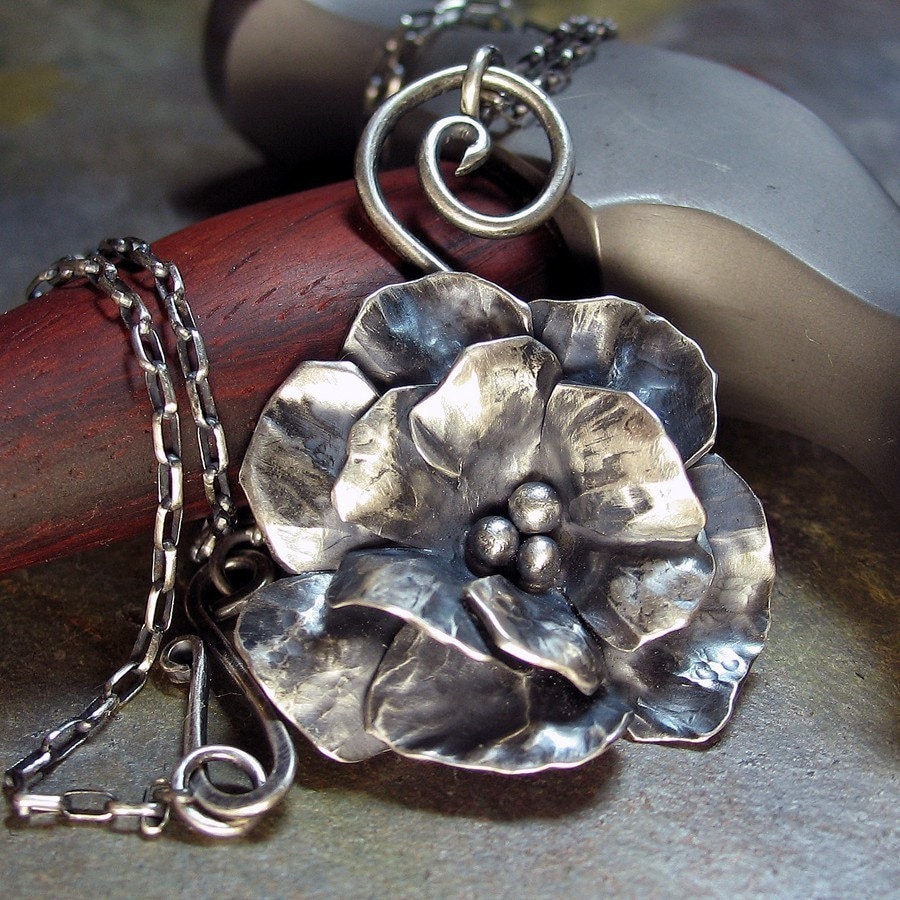 Handmade Sterling Silver Rose Flower Pendant
Adorn your neck with a full-blown cottage garden rose suspended from a sweet tendril of sterling silver.
Tears in the Mist
Labradorite Dangle Earrings
Two luscious teardrops of gem-quality labradorite drip from organic hand-forged sterling silver circles. At once both a soft misty grey and a brilliant metallic turquoise-blue, these lovely labradorite stones create an almost magical pair of earrings.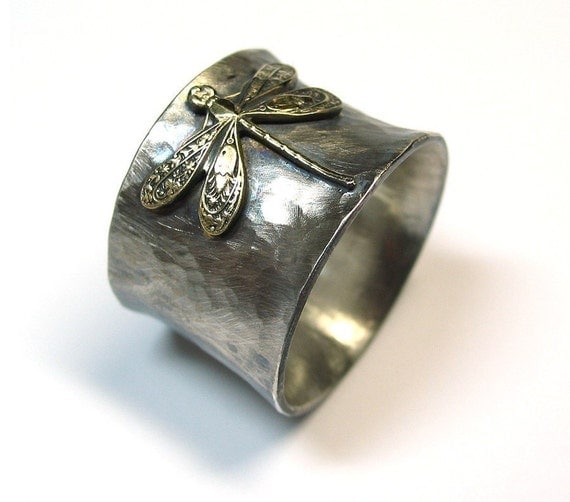 Enchanted Dragonfly
Sterling Silver Dragonfly Ring
Lovely, substantial, and yes, even a bit enchanted, this wide band sterling silver dragonfly ring is definitely attention-getting!
.¸.•´¸.•*´¨) ¸.•*¨)
(¸.•´ (¸.•` ♥
I absolutely LOVE all of the jewelry created by Lavender Cottage, and it was very difficult to choose just a few to feature here today!! Click
HERE
to visit Lavender Cottage and see more of her beautiful handmade jewelry!
(¸.•´ (¸.•` ♥
Thank you for stopping by for my Etsy Finds Friday post!!
Please stay tuned for next Friday's Find... It could be YOU! :) Happy Friday!!
~Trina