It's *
♥
*
Etsy Finds Friday*
♥

*
Today I am featuring the
Beautiful Hand Painted Art
by:
The Green Groovy
In the Artist's own Words:
I am Sowmya V, originally from India-a land of ancient art and heritage. Painting has been my passion since I was about 8 years of age, when I started discovering the magic of the brush and palette. My Art and Crafts kept me busy every summer when all I wanted to do was just paint or decorate! Several years later, now painting has become my true calling and has that soul-stirring power within. All I need stranded on an island is some food and paints and I won't probably miss a thing!:).
Set of 2 hand painted greeting cards for your holiday gifting! Original watercolor blue flowers by Sowmya V. These are original paintings, not prints! true keepsakes. Complements the season.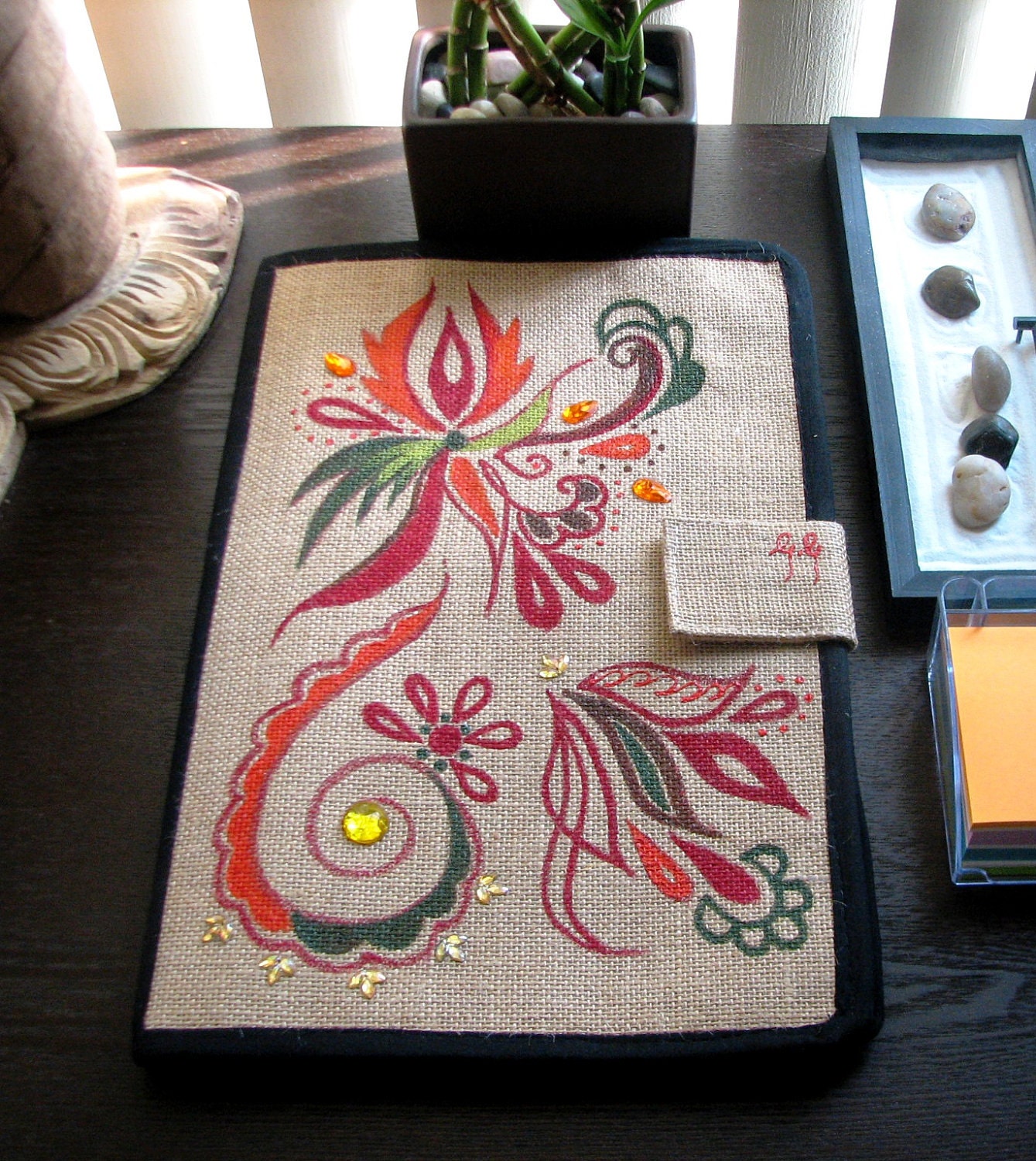 Hand Painted Jute File Folder
Very stylish green stationery for your home and office-even travel! Great for your documents,mail,bills,notebook,etc and a middle slot for your pen. Very comfy to use and carry around-fits into any medium or large sized tote bags! Light weight and durable.Perfect for school and college use. It's so pretty even as a coffee table centerpiece! It adds that classy elegance anywhere it is kept.
Clutch is made of 100% Jute and has vibrant floral cotton ribbon piping to add to the look. Clutch measures 8.5x4.5 inches and closes with two metallic snap in buttons.Insides are lined with soft non woven cloth and contains zipper in the center and three slots on the front for cash and cards. Very comfortable and roomy enough for your daily purse nitty gritties.Easily fits into any handbag.Chic one of a kind ecofriendly accessory. Perfect gift!
Original watercolor red and blue flowers by Sowmya V. These are original paintings, not prints! Send them with your personalized message - Any one would love to get something so special! So pretty that they can be framed for later. I am very inspired by color and mother nature, my style is joyful and spontaneous, ooak on etsy!
.¸.•´¸.•*´¨) ¸.•*¨)
(¸.•´ (¸.•` ♥
Click
HERE
to visit Sowmya V's Etsy Shop and see more of her Wonderful Eco-Friendly Artwork! You can also visit her second Etsy Shop called

Palette De Som

, featuring her beautiful Hand Painted Jewelry and Wood Buttons at: http://www.etsy.com/shop/Palettedesom
.¸.•´¸.•*´¨) ¸.•*¨)
(¸.•´ (¸.•` ♥
Thank you for stopping by for my Etsy Finds Friday post!!
Please stay tuned for next Friday's Find... It could be YOU! :) Happy Friday!!
~Trina