Welcome to my 43rd post featuring the amazing polymer clay artwork created by a few of the members of our PCETeam on Etsy!! The diversity in creativity and style is wonderful!! Enjoy, and be sure to check out their Etsy Shops to see more of their wonderful items.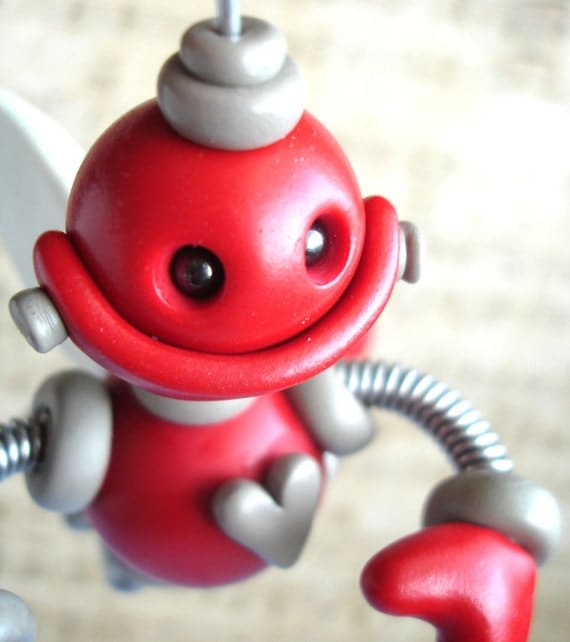 Red Rigby Angel Robot Christmas Ornament
Red Rigby is simply spiffy, his flying skills are certainly not iffy! This little robot sculpture is a hanging ornament. Size in inches: Height 6" x Width 3" x Length 3"



By: ZudaGay
These beautiful earrings feature my handmade flower cabochons on hypoallergenic posts. The flowers measure almost 1" (25mm) across.



By: Clay by Kim
Butterflly Fairy Door for the fairy folk....
Welcome to the neighborhood! Your neighborhood fairies will feel welcome to visit your home now. Only GOOD fairies are allowed to pass through this magical butterfly fairy door.
(This includes the Tooth Fairy and good natured Pixies.) This one might even attract a Leprechaun or two. Hand crafted from polymer clay and fairy dust. Decorated with a beautiful butterfly and some crystals for sparkle. (Fairies like that).


By: Just Clayin
This beautiful set consists of a swirled lentil bead pendant with matching dangle earrings. Soothing colors of teal white and clear compliment the silver tones perfectly. The earrings sway beautifully when you move. :) Varnished for durability and shine.
(¸.•´ (¸.•` ♥
Thank you for visiting, please stop by again for post number forty-four in my series, featuring more of our PCETeam members!! Wishing you a Happy Day!!
~Trina