It's *
♥
*
Etsy Finds Friday*
♥

*
Today I am featuring the
Beautiful Handmade Wire Wrapped
Gemstone Jewelry
Created by:
Carolyn Moran
of Care More Creations
About the Artist:
Carolyn
was born in a small town in Northwest Pennsylvania where she was raised on a farm by two wonderful loving parents. It is there where she learned to love and appreciate nature in all its glory. Carolyn currently lives with her husband on the Kenai River in Alaska where she is surrounded by beautiful mountains, soaring eagles, splashing salmon and of course the occasional wandering moose and bear. She draws her inspiration from her surroundings, family and friends. All of her life she has loved to create...since childhood when she discovered that her hands and her heart were her best tools! You name it, Carolyn probably attempted to create it, but her love of nature together with her love of fashion has inspired her to create this dramatic line of jewelry. She has finally found her niche. Carolyn LOVES making these unique treasures. Every morning she can't wait to get up, put on a pot of coffee and make another one!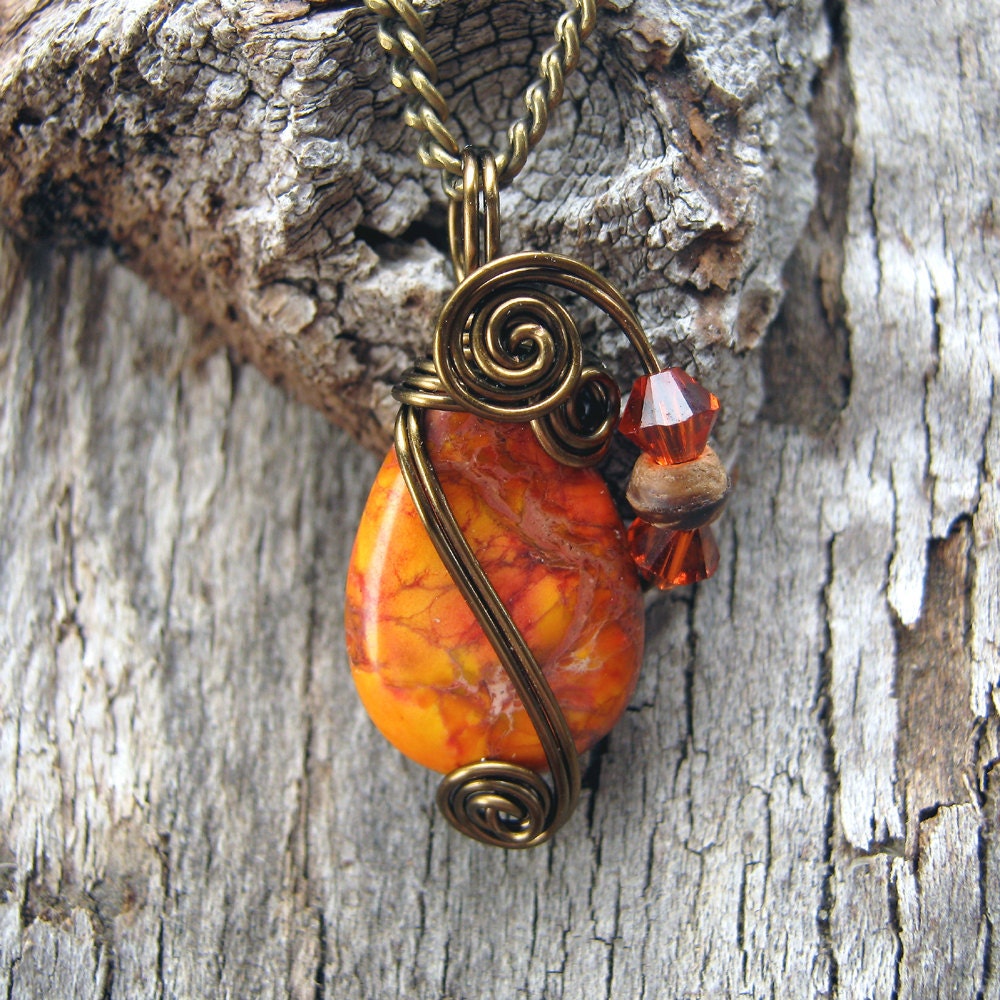 Orange Sea Sediment Jasper
This Trinkette is a vivid orange sea sediment jasper pendant necklace that I handcrafted swirling and shaping antique bronze toned copper wire by hand, adding bright orange swarovski crystals and a wood bead to create an elegant setting that enhances the natural beauty, color and shape of the genuine gemstone. This teardrop shaped gemstone has earthy markings of brown, beige umongst vivid and varying shades of orange. The elegant wire-wrapped setting, together with the earthy gemstone create a beautiful and dramatic pendant that can be worn with formal attire or casual with your favorite jeans.
These lavender crazy lace agate wire wrapped dangle earrings were handcrafted swirling and shaping nontarnish silver plate wire by hand, creating unique elegant settings to enhance the natural beauty of the gemstones. The oval gemstones have a lacey pattern throughout, making these earrings dramatic and feminine. Stylish handmade Care More Jewelry is sure to add a touch of natural drama to your fashion wardrobe.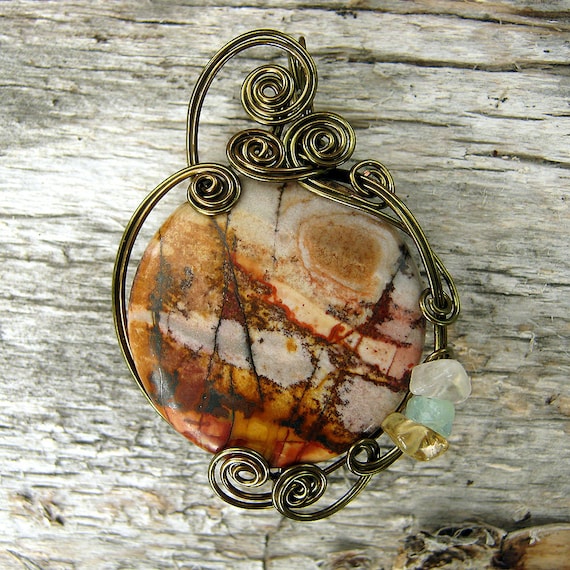 Picasso Jasper Wire Wrapped Pendant Necklace
"Autumn Sunset" is a Picasso Jasper gemstone wire wrapped pendant necklace that I handcrafted swirling and shaping antique bronze toned copper wire by hand, adding topaz, aquamarine and rose quartz chips to create a unique and elegant setting that showcases the natural scenic landscape created by the markings and colors of the stone. This large round stone has earthy pastel shades of blue, pink and gold with brown and gold striations. This jasper displays crackle vintage-like markings giving it a rustic country charm. Notice how the natural markings portray a landscape watercolor of a country lake at sunset in autumn.

In the Artist's Own Words:
"ABOUT MY JEWELRY
I start by personally selecting a beautiful semiprecious stone, or perhaps discovering that "perfect treasure" along one of my nature walks. These stones are what inspire my designs. I then swirl and shape 10k gold-filled, sterling silver plate or copper wire by hand, adding small trinkets such as vintage beads, charms, Swarovski crystals and natural elements such as shells, stone chips and wood to create an original and unique setting to showcase the natural beauty and shape of each stone. Over the past several years I have developed my own unique style of wire-wrapping. The many swirls, curves and turns of the wire are completely created based on what each unique gemstone tells me to do. Mother Nature has been my best teacher and always my inspiration."
.¸.•´¸.•*´¨) ¸.•*¨)
(¸.•´ (¸.•` ♥
Click
HERE
to visit Carolyn Moran's Etsy Shop and see more of her gorgeous Wire Wrapped Jewelry!
.¸.•´¸.•*´¨) ¸.•*¨)
(¸.•´ (¸.•` ♥
Thank you for stopping by for my Etsy Finds Friday post!!
Please stay tuned for next Friday's Find... It could be YOU! :) Happy Friday!!
~Trina